Reviewinator

Trailer
Quicktime
Starring
Director
Shawn Levy
Official Site
Link
US Opening

February 10, 2006

Rated
PG
Genre
Supposed Comedy
Explosions
0
Weapons
Sniper rifle, badge, big ball, fist, handgun

Man Quotient

3.5

(Explosions + Weapons + Hot Babes - Kisses)/ Minutes

Voiceover
Yes
Worst Moment
Falling through floor
Spoilage Factor
0%
Geek Factor
0%
See Trailer?
No
See Movie?
No
If you say you're going to do a trailer review on a movie, you should do it. Otherwise, readers will e-mail you constantly until you do. I wanted to get away with not having to review The Pink Panther trailer, but my guilt for not doing it, overcame my disgust for the trailer. Hey, I survived Ultraviolet, I could survive The Pink Panther, right?
<Editor's note: We're sorry to say Brian did not survive repeated viewing of this trailer. The rest of the review was written by a robot.>
It's standard procedure for the funniest lines of a movie to appear in the trailer. If that's the case for The Pink Panther then it is in big trouble. I didn't laugh once during the trailer. I didn't even smile. Of course, I'm a robot, I can't smile.
The trailer opens well. There's the familiar Pink Panther theme and the cartoon Pink Panther. Unfortunately, this isn't an animated movie. It's all downhill from there. Next, we learn that the Pink Panther is a legendary diamond of extraordinary value. It gets stolen and the bumbling Clouseau is called in to solve the crime.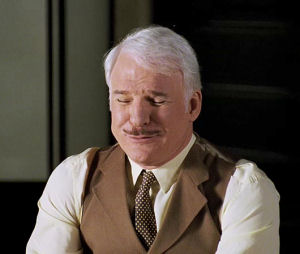 That's exactly how would feel,
if I had feelings.
Steve Martin is not the right person for this role. I don't know who would be, but he's not it. He's not convincing (or funny) as Clouseau. I didn't believe for a moment that he was French. " But it's a slapstick comedy," you say, "He doesn't have to be convincing." That may be true, but he does have to be funny, and he is not.
The rest of the trailer is filled with pratfalls and jokes about bad French accents. Unless you're still in elementary school, you won't find any of it the slightest bit amusing. Beyonce Knowles appears in the movie, but there is no "partial nudity" next to the PG rating, so you can stay at home.
I'm surprised this trailer didn't proclaim "From the Director of Animorphs and The Secret World of Alex Mack." Who wouldn't want to shout those credentials from the rooftops? I guess the director of Kimpossible wasn't available.
Conclusion on Trailer: It's not funny. Steve Martin isn't convincing as Inspector Clouseau. There's nothing worth watching here.
Conclusion on Movie: Go see some other Steve Martin movie that's actually funny instead, or maybe I, Robot.
<Note to Mom: I didn't really die.>
Not sure if you should believe me? Check out the Dysfunctional Family of Five reviews at DeadBrain.

Recommend This Story to a Friend