Reviewinator

Trailer
Quicktime
Starring
Director
Kurt Wimmer
Official Site
Link
US Opening

March 3 , 2006

Rated
PG-13
Genre
Action, Sci-Fi
Explosions
2
Weapons
Chaingun, sword, assault rifles, shotgun, staple gun, handgun, fist, foot, knife, flaming sword

Man Quotient

6.1

(Explosions + Weapons + Hot Babes - Kisses)/ Minutes

Voiceover
Yes
Worst Moment
Stylistic drop
Trailer
Déjà Vu
Aeon Flux
Spoilage Factor
0%
Geek Factor
35%
See Trailer?
No
See Movie?
No
What is the point? Seriously, what is the point of this crap? One reader wrote in challenging me to write a review of this trailer without using the words "cliché", "commonplace", or "stereotype." I guess he wins because I just used them. I can use some other words to describe this though – crappy, shitty and irritating.
If you must know here's the gist: A virus created by the government allows them to make super soldiers. Unfortunately the super soldiers are a threat, so they must be exterminated. Some of those soldiers escape and fight back. Violet is one of them. Milla Jovovich is Violet. She was chosen for her Oscar award winning acting talent and her ability to disappear into a complex character.
OK, she was chosen because of her tight abs and her willingness to expose flesh.
The trailer, and I imagine the film, are all style and no substance. The acting is bad, the special effects are bad, even the soundtrack is bad. Do you get it? This is a bad trailer. Let's talk about it some more.
This is the only reason you're thinking of seeing the movie. Admit it.
The super soldiers like to kill people with an artistic flourish. They're always striking poses after they destroy someone. Don't you think something created to kill wouldn't worry about looking good doing it. It would be as efficient as possible and ready for the next attack.
Also, I think they'd be more fully-clothed with some body armor. Sure, Milla looks good with a bare midriff, but wouldn't a born super soldier have some protection. I know I would especially with Milla Jovovich.
This trailer also has the one-knee landing that every hot woman action star does these days (see The Matrix, Underworld). Isn't that image beaten to death already?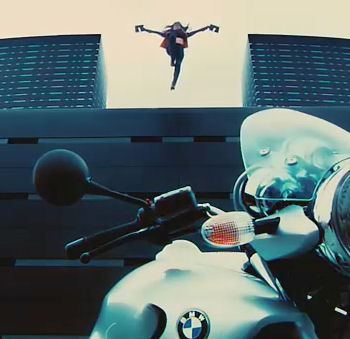 A cliche and product placement all in one shot.
This film also uses the same timeworn sets and images of a dystopian future. Heck, the bad guys are straight out of Half-Life 2. Where's the imagination? How about a future that looks different from all the other futures we've seen.
Conclusion on Trailer: Horrible. Terrible. Crapendous. I hated having to watch it over and over to complete this review. It will cause you pain. Look up pictures of Milla in GIS if you need your hot woman fix.
Conclusion on Movie: This will probably be one of the ten worst movies of the year. Don't even wait for the DVD on this one. Rent Blade Runner instead.
Not sure if you should believe me? Check out the Dysfunctional Family of Five reviews at DeadBrain.

Recommend This Story to a Friend