Reviewinator

Trailer
Quicktime
Starring
Director
William Brent Bell
Official Site
Link
US Opening

March 24 , 2006

Rated
PG-13
Genre
Horror
Explosions
1
Weapons
Noose, knife, crossbow, shotgun

Man Quotient

2.8

(Explosions + Weapons + Hot Babes - Kisses)/ Minutes

Voiceover
No
Trailer
Déjà Vu
Aliens
Spoilage Factor
35%
Geek Factor
40%
See Trailer?
No
See Movie?
No
This week's trailer for review is Stay Alive. You might think it's a remake of the Saturday Night Fever sequel. You might think it has a sound track by the Bee Gees. You might think it is good. You would be wrong.
Stay Alive is a video game. An evil video game (those are the only types of video games allowed in the movies) that will kill you if you die in the game. Stay Alive expands on the maxim that movies based on video games suck. Now a movie will suck if it just has a video game in it.
The trailer opens with a guy telling his friend about this new creepy video game he's playing. Moments later he ends up dead just like his character in the game. Oh my, how frightening.
Next we see a group of friends find the game. This is a typical movie group of friends, a couple of hot chicks along with the grown up Goonies. The guy who wears the stocking cap indoors establishes himself as the annoying guy early on. He states the obvious and is generally annoying. He will be the last to die and you'll be happy about it.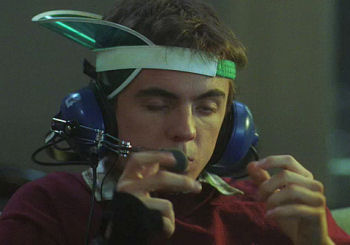 Yeah, that's your typical gamer.
One of their friends is playing the game online with them. He starts to freak out. Some "woman-man" kills him in the game. He does his best Jack Nicholson from The Shining impression, then dies… just like he died in the game! Could this be a coincidence?
"Don't you get it? If you die in the game, you die for real," proclaims the wise one. At this point, you'll all be thinking of several solutions to this problem.

A) Don't play the game.
B) Enter god mode and render yourself invincible.
C) Team kill everybody else to keep the killer busy while you run away.
D) Turn off your computer.
I could go on and on, but if you want a plausible plot you're probably not going to see this movie. Next we get a bunch of scenes that appeared copied from various other recent horror movies. That's fine if you're doing Scary Movie 5 but this one wasn't funny.
Conclusion on Trailer: Boring and derivative. Gamers will find lots of fault just in the trailer. Imagine how the movie will be. Avoid at all costs.
Conclusion on Movie: If you can't tell from the review what I thought of the movie, you should really play this new game I found. Muwahahaha!
Not sure if you should believe me? Check out the Dysfunctional Family of Five reviews at DeadBrain.

Recommend This Story to a Friend