Los Angeles, CA - The MPAA and an association of DVD manufacturers have finally agreed on a standard for high-definition DVDs. The new " Crystal" format provides unbreakable copy protection and Digital Restrictions Management (DRM) features.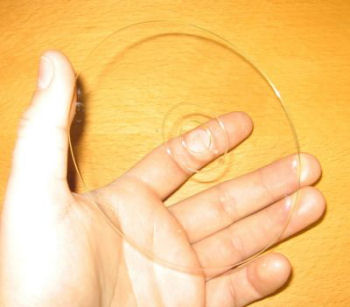 "You cannot copy these new discs, even in a Linux machine," says Akita Niigata, a representative for Sony, who developed the discs.
The discs hold 0% of the data of conventional DVDs. Drive manufacturers said that it will be much easier to meet these specs compared with HD-DVD and Blu-Ray discs. "They'll work with existing machines without any changes, said Niigata.
"The DRM is unbreakable," says Norman Utbar of the MPAA.
"Of course, some users might complain about the fact that there is no content on these discs, but we're certain our law-abiding customers will see that as a small price to pay for the security resulting from the advanced DRM. And of course, if we receive any complaints, we'll subpoena the whiners under the DMCA, because they're probably guilty of some form of copyright infringement."
Utbar said he didn't think consumers would mind paying $14.95 and not seeing Deuce Bigalow European Gigolo.
A representative for the Penguin Liberation Front, which makes available tools to circumvent DRM on Linux computers, refused comment because he was busy downloading next year's theatrical releases from his favorite torrent tracker.
Recommend this Story to a Friend