Minneapolis, MN - Best Buy Corporation announced today that its elite arsenal of Geek Squad technical support agents will be upgrading their fleet of Geekmobiles from Volkswagen Beetles to Lamborghini Countaches in anticipation of the release of Windows Vista.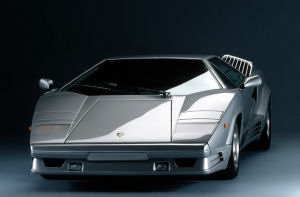 Company officials determined the upgrade was necessary to preserve satisfactory response times because of the expected avalanche of Vista-related house calls.
"We're going to be busier than a spyware-saddled 486 processor," said Geek Squad Cadet Marvin Spindly with an awkward snort and chortle. "Between Microsoft design compromises and home user miscues, we fully expect that our 2007 schedule is going to be packed tighter than an overflowed buffer in Outlook Express. So we need a fast car to handle the load."
A change in the Geekmobile fleet has been in works for some time. Company executives quickly realized that when wrestling with buggy Microsoft software, the last thing home users want to see is a support technician arriving in a V.W. Bug.
To ease the transition, the Geek Squad is encouraging its agents to improve their driving skills by playing Pole Position on company time.
Agents with the highest scores will then be selected to attend Formula 1-style racing schools across the nation. "Once that first Vista security patch hits the streets six to eight hours after launch, it's going to be like the Indianapolis 500 out there," noted Spindly. "Geeks, start your engines!"
But when asked if he and his fellow geeks expected to receive training on how to handle the increased sex appeal of their new luxury sports cars and the loving advances that are sure to follow, Spindly stammered and quickly ran away.
Executives note that all technicians will be affected by the proposed fleet change. While Microsoft specialists will have their Geekmobiles upgraded, Apple MacOS technicians will be downgraded to used Yugos. The sole MacOS representative within Best Buy was unavailable for comment as he is currently vacationing in Cancun with the Maytag Repairman.
Industry insiders do not expect the Geek Squad will rest on its Vista laurels. "As long as gas prices remain in the single digits, their profit margins will be more bloated than the Windows code base," said industry insider Rico Muerteazul. "To brace for Windows Fiji, rumor has it that Best Buy will invest its windfall profits into advanced transportation research by sponsoring its own X-prize competition."
Recommend this Story to a Friend