Los Angeles , CA - Since its introduction with the Star Trek series in the 1960's, Technobabble has slowly gained ground and become an important element in mainstream entertainment.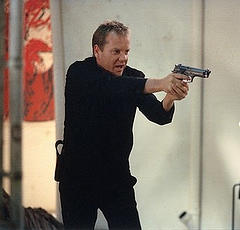 The highly technical jargon was originally created to help create ambience in sci-fi shows, but has grown more complex over the years, often serving as a key plot device in modern thrillers. Thanks to the inherent complexity of the language, many fail to understand the Technobabble and demand actions to limit its spread.
Marc Summers from Fox Broadcasting understands the anger of the viewers. "We've seen huge improvements in Technobabble over the last decade or so. This is thanks to new advances in neolinguistics, quasi-physics and reverse etymology - not to mention the creating of the internet and a vast increase in computing power. Nowadays, we're able to coin words and phrases that we couldn't even dream of a few years ago. No wonder ordinary people can't keep up, so now we feel we should help them along."
The first show to benefit from this technology will be '24', which will be captioned for the technically impaired. The step is taken to ensure - as one Fox representative puts it - to widen the shows public appeal and "stop alienating the millions of fans who have no idea what Chloe is talking about."
While Summers hopes the captions will improve the viewing pleasure for ordinary people, he still encourages viewers to take the time to learn Technobabble. "The captions will only give the viewer a glimpse of what the characters are talking about. If you want to understand the language, you'll have to sit down and learn it. Believe me - it's worth it."
Simon Chee, a Java programmer from San Jose, is happy with the captions, too. "I thought I knew IT until Chloe opened her mouth on 24. I hadn't a clue what it meant to trace a physical location through the binary, but now I do. I can't wait for the earlier seasons to be rereleased with captions, too!"
Recommend this Story to a Friend