Reviewinator

Trailer
Quicktime
Starring
Director
Bryan Singer
Official Site
Link
US Opening

June 28, 2006

Rated
PG-13
Genre
Comic Book Adaptation
Explosions
9
Weapons
Kryptonite, AA gun, gatling gun, man of steel

Man Quotient

7.5

(Explosions + Weapons + Hot Babes - Kisses)/ Minutes

Voiceover
No
Trailer
Déjà Vu
Superman
Spoilage Factor
55%
Geek Factor
70%
See Trailer?
Yes
See Movie?
Yes
Every comic book has been made into a movie now. That's why we have to start recycling them. Last year was Batman, this year it's Superman. I'm not wild about the idea, but if it keeps them from making Elektra 2: Elektra Boogaloo, I'm all for it.
The trailer opens with a short shot of Clark Kent and then his Superman outfit. Then as Superman he's telling Lois Lane that he'll answer her questions now that he's back. She tells him that everyone is happy he's back.
"Not everyone," says Superman. Lex Luthor has to be the party pooper, bent on destroying the world. He finds a crystal that can grow entire cities, entire worlds. He could use them for good, but as any comic book villain would, he'll use it to destroy the earth.
Next we see Lex's crystal in action. The earth begins to tremble, power begins to shut off in major cities, Cleveland gets an upgrade!
Lex Luthor has also gotten his hands on some Kryptonite. That's bad news for Superman, but good news for fans of drama. If the S-man didn't have a weakness, it would be too easy for him to save the world.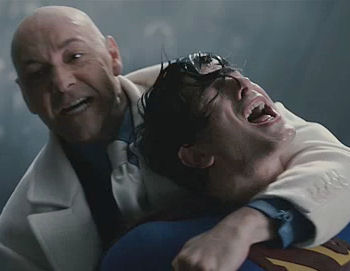 Even Superman needs his prostate checked.
Next we get an action montage with boats breaking, Superman falling, Lex acting maniacal. One cool shot has a bullet impacting Superman's eye. The interesting thing is that it isn't a special effect. They actually got a guy with a bulletproof eye as a stunt double.
The trailer ends with the familiar scene of Clark Kent ripping his shirt off revealing the S. From the other trailers for the film, it appears that every standard Superman cliché has been included. Hopefully, they are handled in a way that isn't, well, cliché.
I am a little concerned about Lois Lane. There isn't any chemistry between her and Superman, and alone she seems dull.
Conclusion on Trailer: Much better than the first trailer that was released. I enjoyed this one, and thought it did its job of enticing me to the movie. Kevin Spacey makes a great Lex Luthor, and Superman looks acceptable.
Conclusion on Movie: I'm encouraged by Spacey and Singer, but Lois and Clark don't inspire me that much. Go see it, but be warned it might only be good for the special effects. I can't wait for the sequel when Chris Tucker reprises Richard Pryor's role.
Recommend This Story to a Friend