Reviewinator

Trailer
Quicktime
Starring
Director
Richard Linklater
Official Site
Link
US Opening

July 7, 2006

Rated
R
Genre
Dick Adaptation
Explosions
0
Weapons
Handgun, stun gun, assault rifle

Man Quotient

2

(Explosions + Weapons + Hot Babes - Kisses)/ Minutes

Voiceover
No
Trailer
Déjà Vu
Charles Schwab Commercial
Spoilage Factor
30%
Geek Factor
70%
See Trailer?
Yes
See Movie?
Yes
Yet another Philip K. Dick story is being brought to film. After the success of the other films based on his works, Battlefield Earth and I, Robot, it's not surprising they did another.
For a two-minute trailer the animation technique called interpolated rotoscoping used for A Scanner Darkly is acceptable. It takes live action shots and converts them to animation. If you seen the recent Charles Schwab commercials, it's like that. I don't know how I feel about the animation for a full-length movie.
From a few shots in the trailer, more can be added than is filmed, unless they got a guy with thirty eyes growing all over his head.
I don't get much of a feel for what the movie is about from the trailer. I know from reading about it that it is set seven years from now when the war on drugs and terror have merged. Everyone is being monitored by something. Keanu Reeves plays a cop who must go undercover for the police and bust some of his friends for doing the widespread drug of the day "D".
With Reeves, Robert Downey Jr., Woody Harrelson and Winona Ryder it's no surprise that drugs are involved is it?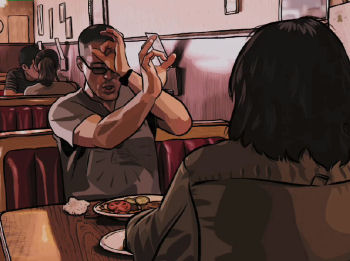 "If we insert the bong directly into
our foreheads..."
The trailer opens with a shot of Keanu Reeves. Explaining that he thinks whatever is watching them is not human. Next we get Downey demonstrating a homemade silencer to his drug buddies. It is less than effective.
Following that Keanu and Winona drive in a car, and we can tell that they are being watched. Having three people monitor every person is a good path to 0% unemployment.
The music then changes to a "Breakfast Club Meets the Surreal Future" mood. We get some philosophical thoughts from the characters. Keanu opines on whether the scanner sees him clearly or darkly. I'm thinking "darkly" since that's what they chose for the title.
It's nice to see a trailer without an action montage and a blaring rock soundtrack for once. Even though it's animated, it almost makes me feel like an adult.
Conclusion on Trailer: The content is top-notch. There's enough creepiness and humor to make the trailer worth downloading.
Conclusion on Movie: This one is a toughie. Will the animation technique grow tiresome for a full-length film? Will the movie bog down with too much conversation? Even with those questions, I think with the people involved it will be worth seeing.
Recommend This Story to a Friend