Reviewinator

Trailer
Quicktime
Starring
Director
Michael Mann
Official Site
Link
US Opening

July 28, 2006

Rated
R
Genre
TV to Movie Adaptation
Explosions
4
Weapons
Colin Farrell's Eyebrow of Power™, shotgun, handgun, submachine gun, sniper rifle, assault rifle

Man Quotient

6.67

(Explosions + Weapons + Hot Babes - Kisses)/ Minutes

Voiceover
No
Trailer
Déjà Vu
Not Miami Vice
Spoilage Factor
35%
Geek Factor
10%
See Trailer?
No
See Movie?
No
The original Miami Vice debuted at just the right time to make an impression on me – high school. It was one of my favorite shows. The guns, the drugs, the women, the pastels! How could you not be a fan?
I never got a white linen suit and I wasn't able to grow designer stubble like Sonny Crockett, but still I managed to survive the 80s.
Michael Mann is taking on what few people have been able to do – make a successful movie based on a TV show. I think Miami Vice might have a better chance than most. Unlike Bewitched or The Flintstones, it's already got a proven movie formula of buddy cops undercover. And, unlike other tries, this one has the original creator of the show at the helm of the movie.
So what about this trailer? It opens with Crockett and Tubbs making an undercover deal with some weapons or drug dealers. Guns and darkness, always a staple in a Michael Mann film.
Next through a montage of boats, planes and helicopters, we learn that Crockett and Tubbs are deep undercover. They're getting an inside look into the criminal operation that no one has before. Pretty good Miami Vice feel so far, but where's the music?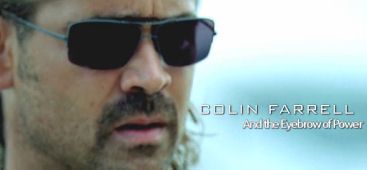 There it is. The mash up "Numb/Encore" by Jay-Z and Linkin Park kicks in. On with the montages. Boats, planes, guns. Crockett and Tubbs butting heads. The serious chief saying people are going to die if things get sloppy. Pole dancers writhing in ecstasy. Yup, that's Miami for ya.
This trailer is short, but we learn Crockett and Tubbs live on both sides of the law. Will they become criminals themselves? Will they lose sight of who they are? Will Crockett don the white linen Armani suit with a t-shirt? These are questions we need answered.
Even though Jamie Foxx has comedic roots, and it's two cops against the world, we don't get the standard cliché wisecracks you see in a cop buddy picture. This one is all dark and gloomy. Maybe, Edward James Olmos will be brought in for some comic relief.
I haven't done the math, but I think Colin Farrell may be the Trailer Review version of Tom Hanks on SNL.
Conclusion on Trailer: It has the right Miami Vice feel, though I miss the soundtrack from Jan Hammer and Phil Collins. We need more of the Eyebrow of Power, too often it's covered up by sunglasses. The trailer is interesting, but nothing spectacular. It's too short with too many montages. I can't recommend it, but it's borderline.
Conclusion on Movie: I like Michael Mann and the style he brings to movies. I liked Miami Vice as a kid. I'm not wild about Colin Farrell as Crockett though, and nothing in the trailer inspires me to see the movie. Other than the track record of Michael Mann this one doesn't have much going for it. As much as I want to, I can't recommend the movie either.
Recommend This Story to a Friend