Reviewinator

Trailer
Quicktime
Starring
Director
Mark Neveldine
Brian Taylor
Official Site
Link
US Opening

September 1, 2006

Rated
R
Genre
Action
Explosions
1
Weapons
Fist, feet, head, handgun, pool cue, sub-machine guns

Man Quotient

3.7

(Explosions + Weapons + Hot Babes - Kisses)/ Minutes

Voiceover
No
Trailer
Déjà Vu
Speed
Spoilage Factor
60%
Geek Factor
5%
See Trailer?
No
See Movie?
No
This week we continue the trend of reviewing movies with one-word titles and stupid premises. Last time - Pulse, this week - Crank.
Crank starts off by pretending to be a deep philosophical drama. We get the hero in a slow-motion walk and like American Beauty he opines that this is the day that he dies. Fans of Jason Statham know that this is no American Beauty.
He tells us that his name is Chev Chelios (defenseman for the Red Wings) and that he is the bus from Speed. Dennis Hopper has injected him with the "Beijing Cocktail," a synthetic poison that will kill him if his heart goes below fifty-five miles per hour. I hope this doesn't start a designer poison trend in movies. I don't want to see the Adam Sandler movie called Boobie Pee Pee where the guy will die if he doesn't ogle at breasts or urinate in public every five minutes.
Like any action hero who's about to die, Chev tells us that he has one hour to put his life in order by screwing his girlfriend and killing the people who poisoned him. He has to do all this without letting his heart rate drop OR HE DIES!
He tells his girl he's a professional hit man. She doesn't believe him, so he kills somebody just to prove it. Isn't love grand?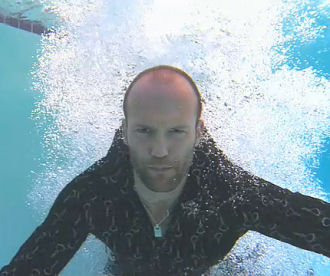 The Nirvana baby all grown up.
Next the trailer returns to slow motion – Chev underwater, kissing his girl, a helicopter. What does it all mean? It means that they didn't have enough to fill the trailer, so they had to stretch it out with some slow motion.
Now the bad guys are worried. Chev is supposed to be dead, but he isn't. He's managed to keep his heart pumping and he's got revenge on his mind. But first, we have to have some action sequences involving cars. There are cars driving through malls, cars smashing into parked cars, cars turning into giant defibrillators and shocking Chev's heart to go even faster.
Next we learn, through a prescient television reporter, that Chev is making his last stand. Exactly how he knows this is Chev's last stand and Chev won't escape is beyond me. Maybe, he's read the three-page script.
A crowd of Asian tourists riding in a bus they wish was Chev cheers on our antihero. Those silly police officers, why must they chase the poor man? Don't they know if he stops, he'll die? He's only killed thirty people and caused eighteen million dollars in property damage.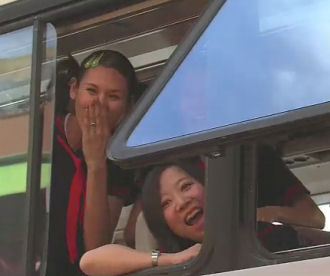 He'll probably get us killed,
but he's SO cute!
Lastly, we get the slow-motion walk we saw at the beginning although this time there is a little twist. He repeats, "My name is Chev Chelios and today is the day," but he stops before he saying "I die." This gives us the impression that maybe he doesn't die like he said at the beginning. Is Chev Chelios a big fat liar as well as a cold-blooded killer? You'll have to watch the movie to find out, but I wouldn't recommend it.
Conclusion on Trailer: This trailer has a music video feel and a silly premise. Fans of Napoleon Dynamite will note that while Pedro is in the movie, he doesn't make an appearance in the trailer. Jason Statham is cool, but nothing happens here that makes this trailer worth the download.
Conclusion on Movie: It'll be action from end to end, if it's not it will be a really short movie because the main character will die.
Recommend This Story to a Friend