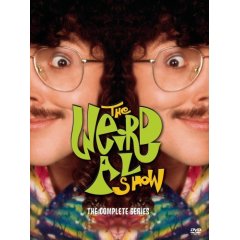 I've got a couple DVDs to give away. I don't really want to, but you BBspotters have been so nice to me over the years I'd like to give something back.
However, I'm not that nice. I'm going to make you do something before I give up these primo DVDs.
Here's what you need to do. Write out in 200 words or less who you think would win in a fight - Weird Al or The Tick and why then send it in to me.
Entries must be received by 9/15/2006.
We'll select the best entry and you can pick which DVD you want. Second place gets the left over. We'll also post the best entries so even if you don't win at least you can say you've been published on BBspot.
So what are these "primo DVDs" you ask?
The first is "The Weird Al Show - The Complete Series."
I never saw the series but the box says:
The three-disc set contains all 13 hilarious episodes of the series which ran on CBS during the 1997-1998 television season. The discs include a plethora of entertaining bonus material, such as animation storyboards, original art galleries, and a karaoke version of the tongue-twisting theme song. Each episode features a commentary by Weird Al, producer Tom Frank and director Peyton Reed, plus guest commentaries from some of the cast members, including Judy Tenuta and Emo Philips.
If you didn't see the series either you can check out some clips: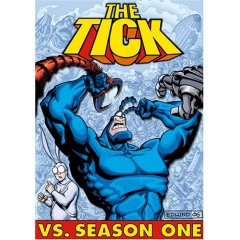 The second DVD is The Tick Vs. Season One. In addition to the entire season one, it also includes a "collectible The Tick Lithograph!"
Here's a blurb about this DVD set:
In The Tick vs. Season One, fans are introduced to The Tick, a muscle-bound, good-natured and hysterically perplexed superhero. Along with his sidekick Arthur, a one-time accountant who wants to join the ranks of do-gooders, the Tick takes on all manner of riotously funny super villains, in a satire of superheroes that is loaded with jokes and pop culture references. The Tick and Arthur's super-allies include American Maid, Sewer Urchin, Die Fledermaus, the Caped Chameleon and The Civic-Minded Five – and each have their own bizarre personality traits and neuroses. The colorful bad guys include The Idea Men, The Breadmaster, El Seed, The Uncommon Cold, and more.
It's a good show. You better have a good reason to want it.
Recommend This Story to a Friend