Columbus, NE – The Columbus, Nebraska city council voted 6-1 yesterday to ban outdoor trick-or-treating on Halloween citing "health and safety" concerns. The council set aside funds to set up an online alternative to trick-or-treating where children can do Halloween puzzles and download pictures of candy.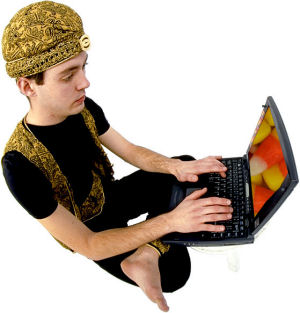 Nathan Hestridge of Columbus, Nebraska gets excited about finding candy corn on the city's website.
"Kids can still dress up in costumes, they just can't go outside," said Mayor Edward Bradley. He added that local business would also take part putting treats on their websites for kids to find. "It's like a combination of Easter egg hunting and Halloween, but without the rotting teeth."
The lone dissenting vote cast by councilmember Tom Hawkins of the Third Ward said, "This is another case of the government interfering where it's not wanted. If kids want to wander around the city dressed as commercials for movies and rot their teeth and clog their arteries then they should have that right."
Children without computers or internet access could also take part in the celebration by submitting a form online and pictures of candy would be printed out and mailed to them.
Many parents applauded the move. Sally Veritek of Concerned Parents of Columbus said, "We've been lobbying hard for this change. I don't let my kids go out on Halloween, so I don't see why other kids should be allowed to either."
The move comes a year after Chelsea Sommerlin broke a tooth on a Zagnut candy bar last Halloween. While some council members cited the Sommerlin case as a reason for voting for the measure, most said it wasn't their only reason.
Halley Westerman of the Fifth Ward said, "Studies show that more kids are killed or injured trick-or-treating than sitting at home surfing the Internet. That made my decision easy."
Mayor Bradley added that steps would be taken to prevent hackers from using steganography to hide razor blades in JPGs of apples, but parents should inspect images anyway before letting their kids print them out.
Recommend this Story to a Friend
Printer-Friendly Version