Reviewinator

Trailer
Quicktime
Starring
Director
Michael Lembeck
Official Site
Link
US Opening

November 3 , 2006

Rated
G
Genre
Unnecessary Sequel
Explosions
0
Weapons
Shovel, feet, frost breath

Man Quotient

1.7

(Explosions + Weapons + Hot Babes - Kisses)/ Minutes

Voiceover
Yes
Trailer
Déjà Vu
Santa Clause 2
Spoilage Factor
0%
Geek Factor
1%
See Trailer?
No
See Movie?
No
Money can make people do things they never dreamed they'd do. They'll kill. They'll sell their body. They'll make sequels. Money. How else can you explain the existence of Santa Clause 3.
I might get some arguments on this, but Tim Allen and Martin Short have been funny. They've done some good work… seriously. Stop laughing. OK, watch this trailer then, that'll stop your laughing.
The trailer opens with flashbacks to the first two movies. In flashback number one, we learn that Tim Allen became Santa Claus because the old one fell off his roof and died thus invoking the Santa Clause (get it!).
In flashback number two we take the pun even further. Santa Claus must get married because of the "Misses Clause." Does the pun ever stop even though you beg and plead like a victim of The Jigsaw Killer?
No, you do not appreciate life enough to avoid a third clause!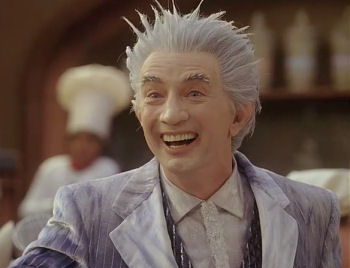 Oh no! My face has been frozen.
I was hoping for Santa Clause 3: The Bear Claws – Santa Versus the Crazed Kodiak, instead we get "The Escape Clause."
Martin Short brings all his over-the-top unacting skills to Jack Frost. After being accused of acting "willful and malicious," Frost replies, "Did you just call me skillful and delicious?" Sadly, that's as close as this trailer gets to being funny.
I know this is a G-rated movie, so it's targeted at a younger audience, but even four-year-olds are more sophisticated in their humor than this.
We learn that Jack wants to be Santa Claus. He's tired of playing second fiddle to the jolly old elf. He tricks Santa into activating the "escape clause," which appears to be a time-traveling snow globe.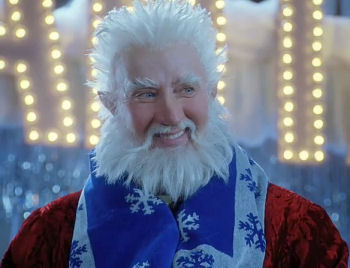 Santa is much closer to
Satan than a mere anagram,
In this alternate past Jack kills the old Santa and becomes the new Santa. Can Tim Allen somehow alter this alternate reality and become Santa again? Will Donder work up the nerve to ask Vixen to the Reindeer Ball? Will Stinky the Elf conquer his drinking problem?
Nobody cares. It will have a happy ending. Jack Frost will comically die. Tim Allen will become Santa again and the kids will be happy all around the world.
Conclusion on Trailer: Yet another trailer that should only be watched to serve as a warning on why you shouldn't go see this movie. If you don't need that service, then save your bandwidth.
Conclusion on Movie: There are so many other worthy Christmas movies that you watch instead of this one; It's a Wonderful Life, A Christmas Story, Die Hard, just to name a few. Rent those, instead of encouraging Santa Clause 4. I beg you.
Recommend This Story to a Friend