Cupertino, CA –Steve Jobs announced several of the iPhone's features during his keynote address at MacWorld including its revolutionary touchscreen and its ability to make you look cooler, however, several other features that weren't mentioned have now been revealed.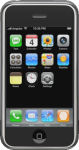 Apple hopes these features will satisfy the few critics that have emerged for the device.
The newly revealed features include:
Apple is using a proprietary compression technology so phone numbers can't be transferred from your current cell phone to the iPhone and vice versa.
The only plan being offered by Cingular will be "all calls for 99 cents" including international calls. This will be good for people who make long calls overseas, but expensive for those who make many short calls to nearby friends.
Continuing Apple's long tradition of gaming excellence the iPhone will only be able to play Tetris and Ms. Pac Man.
The iPhone will only have one button, so unless your friend's phone number is 555-5555 you'll be in trouble.
The iPhone will come in three scents: "Espresso", "Chocolate Divine" and "Bohemian."
The iPhone will be able to detect if you are wearing a black turtleneck and will disable itself if you aren't.
An Apple representative confirmed these features and said they were trimmed from the keynote announcement "for the sake of brevity" and not because they might impact sales.
In response Microsoft said its ZunePhone would be available the first quarter of 2010 and would come in brown with a "touch-like" screen.
Recommend this Story to a Friend
Printer-Friendly Version