Reviewinator

Amazon
Prank the Monkey
Author
Official Site
Link
US Opening

January 30, 2007

Rated
PG-13
Genre
Humor
Explosions
17

Man Quotient

.006578

(Charles Manson + Penis Enlargement + Hot Babes - Kisses)/ Pages

Voiceover
No
Book
Déjà Vu
BBspot's Compendium of BBelievers
Geek Factor
75%
Read Back Cover?
Yes
Read Book?
Yes
I get many requests to review books. I usually reply that I'd like to review the cover (ala Trailer Reviews), but most publishers don't have a sense of humor. It stops me from having to review crappy books. I mean, if you're asking the guy from BBspot to review your book, how good could it be?
I stumbled on an exception though. Prank the Monkey by Zug.com's Sir John Hargrave (He's not a real knight, but it's explained in the book why he's a "Sir.")
I thought this book could have some potential. Even if it sucked, it was by another humor web site creator, so I could get some tips on how to not write my book.
Sir John has spent a lifetime setting up elaborate and not-so-elaborate pranks. The book is broken up into five sections based on who the prank was on: corporations, spammers, celebrities, government and death.
I was pleasantly surprised. The writing is sharp and funny. I don't usually LOL with books, but this one had me guffawing several times.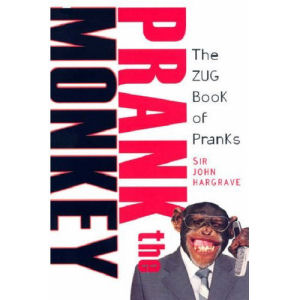 A monkey with a cell phone.
That's comedy gold.
I had heard of several of the pranks before, but never realized they were all pulled by the same person. I suppose I should pay more attention to the Internets.
My favorite prank was when Sir John set up a "Starbucks Express" inside a Starbucks store. He brewed his own coffee, so people didn't have to wait in line so long. Eventually, the police arrived and carafes were shattered, but that's how all good pranks should end.
Some of the more famous ones, such as impersonating Michael Jackson then getting invited to a celebrity charity event, and pretending to have hacked Ashton Kutcher's voice mail then spreading the rumor that his marriage was a prank, received national attention.
This is a man who is willing to sacrifice for his work. Sir John takes penis enlargment pills and Internet pharmacy Viagra just for your entertainment. He's legally changed his name twice and kissed Bill Gates' nipple. That's dedication to your craft.
Conclusion on Book: I recommend this book. It's full of laughs and good fun. Plus, if it's a success, maybe some publisher will come and give me an enormous advance to write the BBspot book.
Recommend This Story to a Friend