Los Angeles, CA – The SETI@home project, which uses unused processing power from home computers to analyze radio telescope data to search for alien intelligence, has received a large donation from an unlikely source - the RIAA.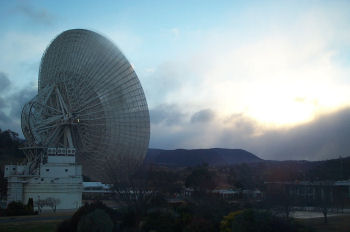 According to RIAA representative Larry Grant, the move is part public relations and part research and development. "We hope to improve our image with many Internet users by funding such a popular project," said Grant, "but also we hope to find another source of income."
Grant explained that broadcast signals travel forever, so it is likely that an alien civilization is picking up our broadcasts. "If they're picking up a broadcast then they are probably recording the songs and sharing them illegally. Copyright laws don't end at the edge of the solar system."
Currently, US copyright laws don't extend into space, but Congress is moving to extend them to extend into the known universe.
"We're not interfering with the project in any way. We just want first crack at suing the aliens when they are found," said Grant. "Just think of it. When the aliens finally figure out what they are doing is illegal it will be thousands of years later. Thousands of years worth of copyright violations? Those judgments will be astronomical!"
Many scientists on the project think that suing an alien culture might not be the best strategy for "first contact." However, they feel it's better than the government's plan of bombing the aliens, so they've accepted the RIAA's offer.
The RIAA also suspects that current file sharing programs have figured out how to communicate with alien worlds, but without proof of those alien worlds those violations can't be added to the lawsuits.
Recommend this Story to a Friend
Printer-Friendly Version