Reviewinator

Trailer
Quicktime
Starring
Director
Mark Steven Johnson
Official Site
Link
US Opening

February 16, 2007

Rated
PG-13
Genre
Comic Book Adaptation
Explosions
4
Weapons
Ramp, teeth, chain, assault rifles, hand gun

Man Quotient

4.5

(Explosions + Weapons + Hot Babes - Kisses)/ Minutes

Voiceover
Yes
Trailer
Déjà Vu
Sidehackers
Geek Factor
50%
See Trailer?
No
See Movie?
No
Who thought this was a good idea? I can only imagine the pitch meeting:
Producers: "We have this idea based on a semi-popular comic. There's this motorcycle guy. He turns into a motorcycle-riding skeleton at night to fight evil. The cool thing is that everything looks like it's on fire! It'll star the red-hot Nicolas Cage as the superhero Johnny Blaze. Clever name, huh?"
Studio: "Here's 120 million dollars."
How did they settle on Nicolas Cage for the lead? Who were the other choices that were worse than him? Dom Deluise? Zooey Deschanel? Henry Fonda?
Mark Steven Johnson directed the film. He directed Daredevil and wrote the script for Elektra. If that doesn't make this a must see movie then I don't know what does?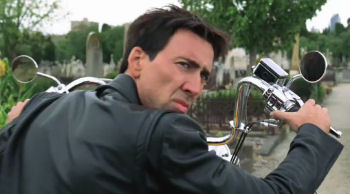 Does this look stupid or what?
The trailer opens with Nicolas Cage as a middle-aged stunt cyclist making a three-hundred foot jump over five running helicopters. He botches the landing and rag dolls into the wall. He stays unhurt.
His partner thinks he should be dead and that an angel is looking out for him. Nicolas Cage stares longingly into the night and says that "maybe it's something else."
Who could it be, I just don't know. Could it be… Satan?
Since this movie has a motorcycle in it, Peter Fonda has to be Satan.
Johnny Blaze made a deal with the devil to save someone he loved. Like everyone else who signs a contract with Lucifer, he didn't read the fine print. Why don't people ever have a lawyer with them when they're signing contracts with the Antichrist? All this trouble could be avoided.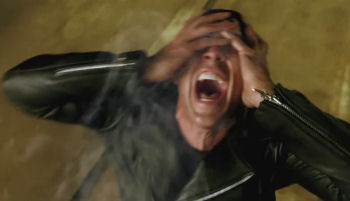 How you will feel after watching this trailer.
During the day he's normal, but at night the Ghost Rider takes over his body to battle evil. The Ghost Rider also happens to ride a motorcycle (lucky break). The Ghost Rider looks like a flaming skeleton and rides a fiery bike. His weapon of choice is a burning chain. He likes campfires, fireworks, and roasting marshmallows.
Next we meet Eva Mendes. In a stand off with police she realizes the Ghost Rider is Johnny, but too late. The police start shooting.
"Ha-ha," laughs the Ghost Rider "My flame wall will stop the bullets!"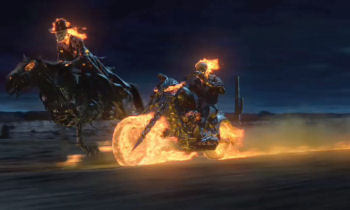 I've been through the desert on a
horse made of flame.
Next we see the Ghost Rider driving his flaming bike up the side of a skyscraper. He's powerful. He can defy logic and gravity. There's a laugh-inducing shot of a flaming horse rider and the flaming bike racing each other in a desert.
We learn that he's "the only one that can walk in both worlds." Coincidentally, neither of the worlds wants him. I don't either. This trailer sucks.
Conclusion on Trailer: The sparse dialog throughout the trailer is painful. The CGI is laughable. The idea is stupid. Don't watch this trailer.
Conclusion on Movie: The only positive aspect about this movie is there won't be a Ghost Rider II. Avoid at all costs.
Recommend This Story to a Friend