Reviewinator

Trailer
Quicktime
Starring
Director
Walt Becker
Official Site
Link
US Opening

March 2 , 2007

Rated
PG-13
Genre
Failed Comedy
Explosions
2
Weapons
Bull

Man Quotient

1.6

(Explosions + Weapons + Hot Babes - Kisses)/ Minutes

Voiceover
Yes
Trailer
Déjà Vu
Wild Rebels
Geek Factor
0%
See Trailer?
No
See Movie?
No
I decided to stick with the "bad movies with motorcycles" theme this week and review Wild Hogs. Darn. I shouldn't have used "bad movies" in the first line of the review. I should've left some suspense about how I felt about this trailer.
Who am I kidding? You know that this movie stinks. I know this movie stinks. The actors in the movie know it stinks. The studio knows it stinks. Yet they spend millions of dollars trying to persuade you it doesn't stink. When its competition is Norbit, it might have a chance.
The trailer opens with John Travolta (aka "The Businessman who's lost sight of what's important whose journey will be to found out what's important in life.") on his cell phone telling off someone over a contract. We're fooled into thinking this is some high-powered real estate deal. Surprise! The person he's telling off is a neighbor kid raking his leaves. OMG LOL NOT.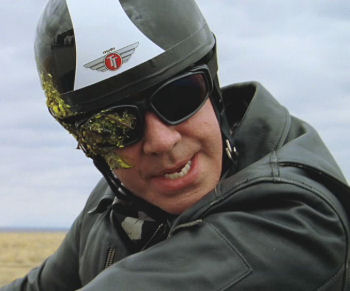 You too will feel crapped on if
you pay to see this movie.
Next, William H. Macy (aka The Nerd whose journey will give him the confidence to approach a woman) has some problem with his speech recognition software at a coffee shop. "Alternative specs" turns into "alternative sex" and the female computer voice starts spouting off sex sites while he scrambles to shut it up. Please, if he's such a nerd, wouldn't he know how to disable the sound on his computer quickly?
Speaking of unconvincing, who would believe that these four guys would be friends? Do four opposite stereotypes get together that often? They seem thrown together to act out their cliché. I know it's a comedy, but how about some imagination.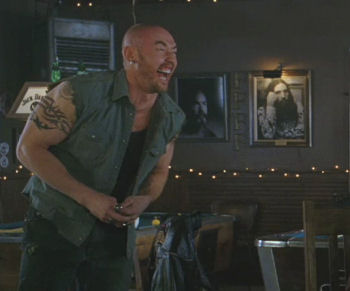 At least somebody got a laugh
from this trailer.
Next, Martin Lawrence (aka Added for Color) does the softball pitch at a carnival. He throws the ball as hard as he can and it nails Tim Allen in the groin. As a rule, you should avoid any movie that has somebody getting hit in the nuts. This is no exception.
There's a scene where the men slap a bull. Can you imagine what happens next? Will one of them be hit in the butt by the bull and thrown into the air? Will one of them be hit in the face with some cow shit? Yes and yes. The same rule mentioned above applies to these two scenes as well. That makes three strikes, but this trailer doesn't stop there.
It also has stereotypical voiceover work.
"This Spring…they may not know how to ride, but when they hit the road…they had no idea it would hit back. From Touchstone pictures…they went looking for an adventure…and found a journey…they'd never forget."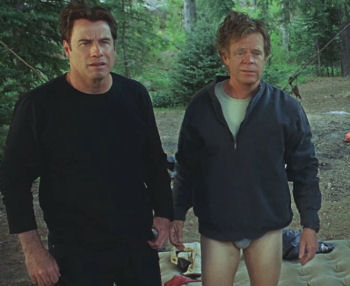 If words aren't enough to scare you away from this movie, how about a picture?
They may never forget it, but you will be hoping that you can if you dare watch this trailer, or worse yet ignore my advice and see the movie.
The journey they are taking involves a road trip on motorcycles. They'll each grow in some way on this journey to become better people. You'll be a better person if you don't see this film.
Conclusion on Trailer: Full of bad gags and clichés. Don't fill your tubes with this one.
Conclusion on Movie: If you loved Santa Clause 3, Black Knight and Look Who's Talking Now then you are on the wrong site. You might also like this movie. For the rest of you, avoid it like it was Winamp 3.
Recommend This Story to a Friend