Reviewinator

Trailer
Quicktime
Starring
Director
James Wan
Official Site
Link
US Opening

March 16 , 2007

Rated
R
Genre
Laughable Horror
Explosions
1
Weapons
Torture instruments, straight razor, shotgun

Man Quotient

2.2
(Explosions + Weapons + Hot Babes - Kisses)/ Minutes

Voiceover
No
Trailer
Déjà Vu
Child's Play
Geek Factor
5%
See Trailer?
Yes (to laugh at)
See Movie?
No
If you make one successful movie, then you can make whatever movie you want. Just ask the writer and director from the Saw movies. Seriously, how else can you explain Dead Silence?
Here's the premise, and try not to laugh: An army of possessed ventriloquist dummies terrorizes a town.
That's it. Nothing more. You're laughing. Admit it. If you're not laughing, then you're shaking your head and cursing Hollywood. If you're not doing either of those then go back and reread the previous paragraph until you do.
The trailer opens with a young woman alone on a stormy night. Her radio mysteriously goes dead. She walks to check the lump under the covers of her bed. The lump jumps up and kills her.
Next we hear the story of the town. A long time ago there was a ventriloquist named Mary Shaw. She was the only suspect in the disappearance of a young boy. The townsfolk, sick of her stupid act, cut out her tongue. She was buried with all her dolls. Then people in town started turning up dead with their tongues cut out. People turning up dead wasn't good for home values, so everybody left town.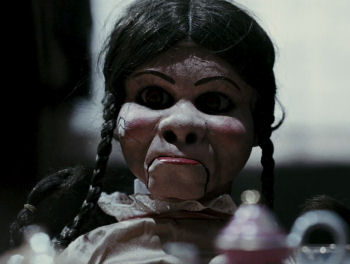 A transvestite ventriloquist dummy isn't any scarier than a regular one.
A Starbucks gets built in the abandoned town and people start moving back. That's why the young woman who got murdered at the beginning of the trailer was there.
Her husband goes to look into her death with Detective Donnie Wahlberg. Poor Donnie Wahlberg, his brother gets to act in the Oscar-winning The Departed while he gets stuck in this stinker. I guess it's better than being Vanilla Ice, but not by much.
Next we get a bunch of funny sequences with ventriloquist dummies. They're alive! They're jumping at you. Oh look, it's Mary Shaw. She's not dead. Hold onto your seat, it's an evil clown dummy. Be careful you may poop your pants in fright.
Donnie Wahlberg starts blowing away the ventriloquist dummies with a shotgun, but there are just too many of them. Maybe he should've brought a flamethrower, or read the script before he agreed to be in the movie.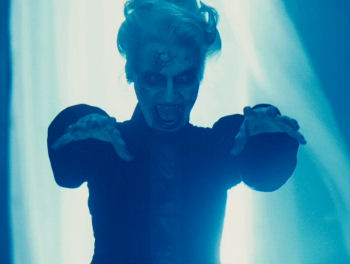 Cause this is thriller, thriller night!
The film is rated R so there will be plenty of gore. I imagine people will end up with infected splinters after battling the dummies. There will be close-ups of the wounds. Gross!
Conclusion on Trailer: This trailer is laughably bad, so much so that it might be worth watching for its hilarity alone. This trailer should give hope to any budding filmmakers. If crap like this can get made, then anything has a chance.
Conclusion on Movie: If you feel compelled to see this movie after reading this review, then I hope it's because someone has a gun to your head. Not that I wish you had a gun to your head, but that would be the only reason I can imagine. I heard the director has a gun permit, so if you live next to him you might want to be careful.
Recommend This Story to a Friend