Reviewinator

Trailer
Quicktime
Starring
Director
D.J. Caruso
Official Site
Link
US Opening

April 13 , 2007

Rated
PG-13
Genre
Thriller
Explosions
0
Weapons
Knife, handgun, shovel, surgery implements, saws, pick-axe, bat
Tech
Ankle bracelet, binoculars, headphones, LCD monitor, cell phone, video camera, spycam, walkie-talkie

Man Quotient

4.4
(Explosions + Weapons + Hot Babes - Kisses)/ Minutes

Trailer
Déjà Vu
Rear Window
Geek Factor
25%
See Trailer?
Yes
See Movie?
Yes
This week's review is for Disturbia, an updated version of Rear Window starring Shia LeBeouf in the Jimmy Stewart role.
Shia has been sentenced to 90 days house arrest. He's fitted with an ankle tether to keep him inside. First, he marks off the boundaries of the tether, then he gets his binoculars and starts spying on the neighbors.
His neighborhood is filled with gorgeous women, which makes you wonder why a teenaged boy needs an ankle tether to stay home. His Asian technowizard friend joins in on the fun.
Uh-oh, the hot babe next door spies them checking her out. Instead of ignoring them or ripping them a new one, she's movie-fantasy cool and wants to join in on the voyeuristic fun.
Like the trailer tells us, the quieter the street, the more likely David Morse is next door hacking up women. It doesn't quite say that, but that's the gist of it. The hot babe, turned on by the spying starts spending nights at Shia's. They spy the psycho killer murdering a woman. Shia risks jail by disobeying his ankle tether to catch the guy, but David Morse is too clever.
Nobody believes him. Not even Carrie-Ann Moss, who plays his mother. His crew must come up with an elaborate plan to catch the killer.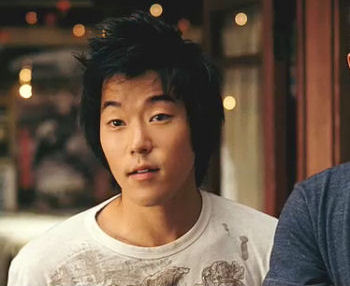 Data's quite tired of falling and
Data's tired of skeletons!
They get the plans for his house and discover he's got a secret room. They follow the killer and take pictures of him with their cell phones. The Asian guy, against all logic, sneaks into the killing room and gets killed.
Eventually, everyone in Shia's life is either trapped or killed by Morse. You'd think Trinity would have enough sense, or at least enough kung fu skills to escape, but she's grown rusty. They must all rely on the juvenile delinquent, who can't even bypass an ankle tether.
The ending is composed of many quick-cut action scenes, even an inexplicable car flipping scene in the middle of a desert and a Texas Chainsaw Massacre-like flickering film sequence for a finale.
There is plenty of geekiness in the trailer with all the gadgets. The kids are using technology to try to help them solve the murders, but it's old school technology like surgical instruments and garden implements that might prove their undoing.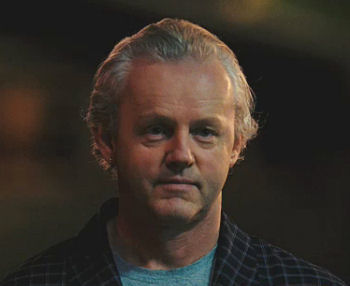 I'm gonna die.
Ending Prognostication: The psycho killer will die a horrible death at the hands of Shia. The Asian friend will have been sacrificed, but the hot babe and Shia will somehow get over it and live happily ever after until Disturbia 2!
Conclusion on Trailer: I like David Morse, he's a good choice for a psycho killer. This is a tried-and-true concept. Nothing groundbreaking here, but the trailer was enjoyable, so I'll give this one a recommendation.
Conclusion on Movie: While there will be some unexpected twists, this one will end predictably. Like all thrillers it depends on the payoff, so it's hard to know if this one will reward the viewers with a satisfying payoff, but with the actors involved I have hopes for this one.