Reviewinator

Trailer
Quicktime
Starring
Director
James Foley
Official Site
Link
US Opening

April 13 , 2007

Rated
R
Genre
Thriller
Explosions
0
Weapons
Glass wall

Man Quotient

3.2
(Explosions + Weapons + Hot Babes - Kisses)/ Minutes

Trailer
Déjà Vu
Fatal Attraction
Geek Factor
15%
See Trailer?
No
See Movie?
No
This week's trailer is called Perfect Stranger. No, not a movie version of the horrid late-80s, early-90s comedy series starring Bronson Pinchot, but the Halle Berry-Bruce Willis thriller. Sadly, I think Perfect Strangers: Balki Takes Manhattan would be better.
Don Lafontaine does the voice-over work for the trailer. I waited for "In a world..." but only got "Now, it's up to one reporter…" Close enough.
The opening part of the trailer sets up the story. A friend of Halle Berry meets a man online. Since this is a movie, the online relationship must end in death. Everyone you meet online will kill you, while they are downloading pirated music and movies. At least that's what the MPAA wants you to think.
The man she meets is Harrison Hill, played by Bruce Willis. He's the head of the biggest ad agency in New York and he's married. Halle's friend thinks it's wise to blackmail him and you guessed it, she's murdered.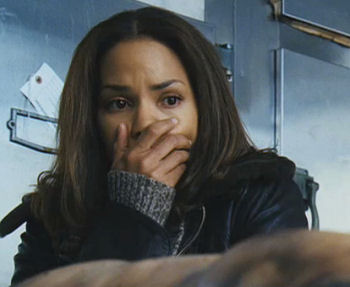 "Oh my God Bruce, put your pants back on."
To catch the killer, Halle must become the "perfect stranger" to tempt Bruce Willis to kill her. She teases him on IM. She joins his company as a temp. She wears low-cut, tight-fitting dresses. Can you blame Bruce Willis?
Since there are computers involved and women in movies don't know how to use computers, Halle needs a geeky friend to help her navigate the complicated online world. Her online assistant is Giovanni Ribisi. He thinks Bruce Willis is hiding something.
Then we get a sequence of quick-cuts filled with action. By this time though, you're wondering why you're still watching this trailer. What redeeming qualities does this trailer have? Then you think to yourself: Did they screw up and leave a shot of Halle Berry naked among all these quick cuts? So you scroll through the trailer frame-by-frame. Well, you would do that if you were a responsible webmaster linking to this trailer from your geeky web site. (I mean my kids might watch this trailer!) Sadly, the trailer producers were thorough.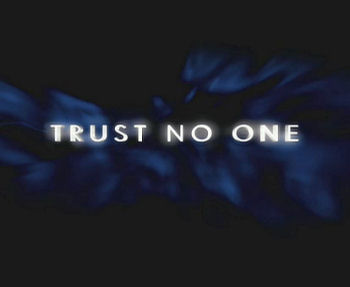 Trust me, this movie will suck.
The online angle of this trailer seems tacked on. It feels like the producers added it to tap into the fears of non-geeks and politicians who want to pass more restrictive Internet laws. The trailer also furthers the myth that hot, successful women want to chat with you online.
One product placement of note: The laptop she's using is a Vaio and not a Mac. Apple's product placement division must be slipping.
Conclusion on Trailer: I like the actors involved, but this trailer is terrible. Without these stars this would be a "movie of the week" on Lifetime. A couple clips of Halle in a low-cut dress and pulling on her panties just to tease the horny Internet guys, but even that doesn't make it worth watching.
Conclusion on Movie: Go rent Season 1 of Perfect Strangers and watch it instead of this stinker.