Reviewinator

Trailer
Quicktime
Starring
Director
Matt Maiellaro
Dave Willis
Official Site
Link
US Opening

April 13 , 2007

Rated
R
Genre
Cartoon Adaptation
Explosions
5
Weapons
Spinning blades, spikes, teeth, combat knife, robot, flamethrower, baseball bat,

Man Quotient

4.8
(Explosions + Weapons + Hot Babes - Kisses)/ Minutes

Trailer
Déjà Vu
South Park
Geek Factor
35%
See Trailer?
Yes
See Movie?
Yes
I've only seen eight episodes of Aqua Teen Hunger Force, and that was just a few days ago in preparation for this review. I don't claim to be an expert on the cult series from Cartoon Network's Adult Swim, so all the fan boys can save their emails with corrections.
If you've never seen this series you are going to be very confused. It stars a shake, a box of French fries, and a meatball. There's also their Dennis Franz-looking neighbor, Carl, complete with wife-beater shirt and sweat pants. You can't expect the trailer with a box of talking fries to take itself too seriously, and it doesn't.
First, the title sounds like Borat named it: Aqua Teen Hunger Force Colon Movie Film for Theaters. The trailer hits all the trailer stereotypes (OK, it doesn't have "In a world" but it gets close). It has the dramatic voice-over, the quick-cut action sequence punctuated with hard rock soundtrack and, of course, a flaming chicken.
I'll try not to ruin the laughs for you in my description (except for the flaming chicken). The trailer opens by explaining what won't be in the movie. Then we get the quick-cut action sequence. Finally we get the exploding title reveal.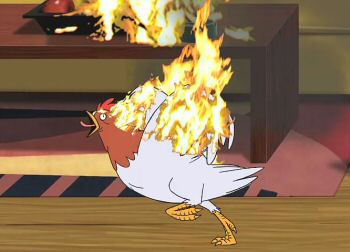 I like mine extra crispy.
From the episodes I watched there isn't much plot, and from what I gathered from the trailer, there won't be much plot in the film either. That's not a bad thing, though I question their ability to stretch twelve-minute episodes into a full-length movie.
The trailer doesn't have any trouble making fun of itself either. They claim to have "three new backgrounds and five characters," poking fun at their economical animations.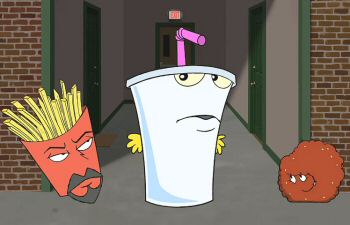 If you don't recognize anyone in this picture then you probably won't like this movie.
It evens takes a page from the BBspot Trailer Review School of Comedy and brags, "From the 1st Assistant Director of the 2nd Unit of Hellraiser III: Hell on Earth," crediting the most notable of the two directors. The other director claims to be the "Pruduction (sic) Assistant of the Training Video: Know Your Fryer." I give the trailer two points for honesty there.
Ending Prognostication: The trailer doesn't give us any idea how the movie will end, but if you go to the official site, the last minute of the movie is there for you to watch.
Conclusion on Trailer: Watching a few of the episodes on TV certainly gave me some background information to understand the trailer. I can only imagine how confused someone would be coming into this cold. The trailer made me laugh several times which, as I've said before, is good for a comedy. I don't think it wasted its best lines either. Definitely worth watching.
Conclusion on Movie: I have a feeling this movie will only be appealing to fans of the show. The trailer isn't packaged for mainstream audiences. Most people will watch it and say, "Huh?" For fans of the show, you don't need my recommendation. If you find the trailer funny, go see the movie. I will be doing just that.