Reviewinator

Trailer
Quicktime
Starring
Director
Sam Raimi
Official Site
Link
US Opening

May 4, 2007

Rated
PG-13
Genre
Comic Book Adaptation
Explosions
6
Weapons
Fist, forearm, feet, giant fist of sand, holy handgrenade, handguns, sword, subway train

Man Quotient

5.6
(Explosions + Weapons + Hot Babes - Kisses)/ Minutes

Trailer
Déjà Vu
Spider-Man 2
Geek Factor
85%
See Trailer?
Yes
See Movie?
Yes
Finally, the summer's big movies are arriving. You've endured Perfect Stranger and Dead Silence. Spider-Man 3 is your reward.
There have already been at least four trailers released for this movie. I'm reviewing the first one. I want to warn you, that if you watch all the trailers, you will be revealing a lot of plot information.
The trailer opens with some patriotic shots of Spider-Man landing in front of a giant American flag. The kids are all dressed in their Spider-Man Underoos applauding maniacally, while M. J. stares blankly off into the distance.
Then we get the romance. Spidey has spun a giant web on which the lovers lay. He tells his aunt that he's going to ask M. J. to marry him. Life is a bowl of cherries.
Next we see Thomas Haden Church running from police. It's revealed that he's the man who killed Peter's uncle. During his escape, Church happens on a particle physics lab and gets turned into the Sandman. Not sure how that could happen, but if you buy Spider-Man's powers then you won't have much trouble accepting this.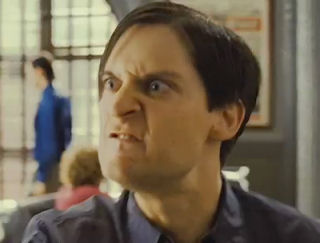 This is my angry face.
I practiced it all morning.
Spider-Man wants revenge, and he wants to exact it alone. While sleeping in bed one night, he's attacked by some black gloop that turns his entire Spidey-Suit black. Like steroids, the new black suit makes him more powerful, and a little bit edgy. He assaults a photographer. He pisses off M. J. He beats on the Sandman.
Will Spider-Man turn to the dark side? No. We see him tearing off the black suit, and rejoining the good guys. I'm glad to hear this, because I wouldn't want this to be another Revenge of the Sith.
In this trailer we get a quick glimpse of the three villains Spidey has to combat: Sandman, Venom and Harry Osborn. Does this mean that in Spider-Man 4 he'll have to face four villains and on and on? If so, I think we'll have to get M. J. a Spidey suit. Actually, I think we should do that anyway, or maybe a Catwoman suit, meow!
The trailer ends with a classic quick-cut action scene with pounding chorale music. A bit formulaic, but for this trailer, it works. The trailers for the first two Spider-Man movies were classics. I wouldn't put this one in that category, but it was good.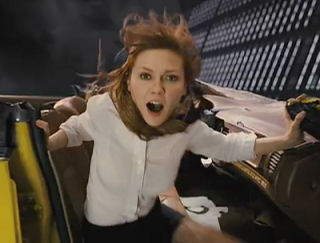 Holy bulges Spider-Man!
Ending Prognostication: Spider-Man wins. At least one of the villains survives, but probably two.
Conclusion on Trailer: Good use of music and action sequences. The trailer has a good story arc that gives us the outline of the plot. If you want to keep some of the secrets of the movie secret, then don't watch every trailer they release.
Conclusion on Movie: With good actors, director and budget, this one will be a summer success. I think they can keep the franchise alive for Spider-Man IV, but I have a feeling that we're going to start seeing a decline in quality.