Reviewinator

Trailer
Quicktime
Starring
Director
C.B. Harding
Official Site
Link
US Opening

May 11, 2007

Rated
PG-13
Genre
Redneck "Comedy"
Explosions
4
Weapons
Assault rifle, machine gun, AK-47, handgun, grenade launcher, tank, bottle, fist, cannon

Man Quotient

6
(Explosions + Weapons + Hot Babes - Kisses)/ Minutes

Trailer
Déjà Vu
Deuce Bigalow European Gigolo
Geek Factor
-30%
See Trailer?
No
See Movie?
No
Warning: This trailer review is full of sarcasm. Please turn on your sarcasm detectors before continuing.
If you were wondering how I feel about Larry the Cable guy, then you must be new to the site. I can't improve on what David Cross wrote, so you can just read that instead. Larry is in this week's trailer, Delta Farce, and this one has locked up a position in the "Worst Trailer of the Year" nominations for 2007.
It only takes ten seconds of this trailer to know it will be bad. Some soldiers raise a flag, while a commanding officer talks about what it takes to be a hero. Cut to Larry the Cable Guy (yes, that's his name) in a red cowboy hat holding a plate of sandwiches saying, "Did somebody say hero?" Groan.
Next we see Larry and his two buddies covered in mud in the mess line at the army base. It only takes 25 seconds to tell this might be the worst trailer ever. The "Sarge" berates the two rednecks telling them, "If there's a worse excuse for a soldier, I'd like to meet him." Up steps DJ Qualls (the worse excuse) who says, "Hi Sarge, snap into a Slim Jim."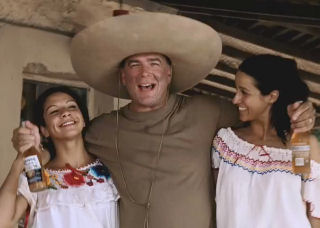 The trailer even has bad beer.
When you see product placement for beef jerky in the trailer, you might think that's as low as it can go. You'd be wrong.
We learn that the morons are going to Fallujah, Eye-Rack. Cut to a plane flying in a storm. Larry climbs into a vehicle in the plane, because he wants to get some sleep. The pilot has to dump the Humvee to save the plane, but nobody bothers to check if three people are sleeping in it.
The three guys oblivious to being parachuted out of a plane in a Humvee in the middle of a ferocious storm land in the desert, which they think is Iraq. The two guys that aren't Larry wake up in the back of the Humvee. One says, "Don't ask." The other says, "Don't tell." See, I told you it would get worse.
They head into a town and start shooting. It turns out, they are in Mexico, not Iraq! ROFLMAO! They are heroes for ridding the town of the bad guys, so they get treated to a lot of beer and tequila. One guy says, "If we leave now, the terrorist win." No he di'n't. Oh, yeah he did!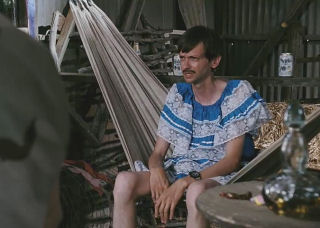 I'm trying to be as pathetic as Rob Schneider. How'm I doing?
Next we get some slapstick action scenes with guns blazing and explosions. The quick cuts end with Larry the Cable Guy saying his catchphrase "Git-r-done."
Wait, they're in Mexico and have used all the other tired jokes, but they haven't said anything about eating the worm? Heavens be, what could be the matter? Nothing, you just have to wait until the very end. One of them, now in a dress, says this always happens to him when he "eats the worm." There it is.
Of course, tequila doesn't have a worm in it, but you don't expect accuracy in a Larry the Cable Guy movie.
Ending Prognostication: The buffoons make good by ridding the town once and for all of the bad guys. They rally the town around their goofiness to "Git-R-Done." The movie will end with all three guys farting the national anthem while the credits roll.
Conclusion on Trailer: This trailer is excruciatingly painful. Only watch this if you want an explanation for what's wrong with America.
Conclusion on Movie: This one will be voted in the bottom 100 of movies on imdb.com. Guaranteed.