Reviewinator

Trailer
Quicktime
Starring
Director
Gore Verbinski
Official Site
Link
US Opening

May 25, 2007

Rated
PG-13
Genre
Pirate movie
Explosions
11
Weapons
Swords, cannons, pistols, rifle

Man Quotient

6.4
(Explosions + Weapons + Hot Babes - Kisses)/ Minutes

Trailer
Déjà Vu
Pirates of the Caribbean 2
Geek Factor
28%
See Trailer?
Yes
See Movie?
No
This week we review the third in the Pirates of the Caribbean series, At World's End. Like Back to the Future and The Matrix sequels, Pirates 2 and 3 were filmed at the same time. Those two didn't have much luck with that strategy, maybe Pirates will fare better.
The trailer opens with a voodoo master asking the pirates what they would risk to save Captain Jack Sparrow (Johnny Depp). One of them answers, "Nothing," and the trailer ends. OK, I lied. Of course, they'll risk everything to save Captain Jack. He's such a charmer. Plus, he's got the magic compass that they all want.
Captain Jack's feelings are hurt, because they only saved him for what he had. Except for the monkey, who did it just because he misses him, but you can never trust a monkey, especially a pirate monkey.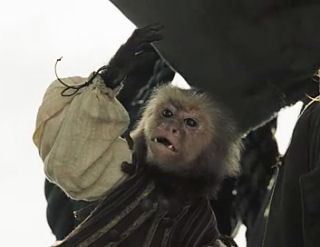 Never trust the Pirate Monkey
Geoffrey Rush opines on the end of an era for the pirates. The romantic era of murder, rape and pillage will be ending. Ah, those were the days. The foes of the pirates are united to destroy them in one final battle.
To face these united foes, the pirates from the four corners of the globe must work together to fight them. Chow Yun-Fat joins Jack, Orlando and Keira to help keep the pirates alive for at least one more sequel.
After some witty banter from Jack, the action explodes in all its quick-cut glory. Explosions, sword fights, storms, whirlpools and marriage proposals fill the screen. CGI ships battle it out on CGI whirlpools to decide who will be master of the Pixelated Sea.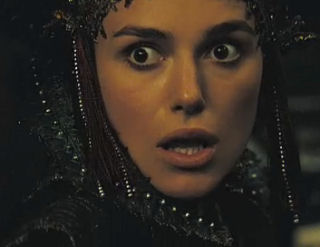 Amidala makes an appearance
I loved the choreographed sword fight between Davy Jones and Captain Jack, their swords ringing together to the pulsing sounds of the choir. Pirates obviously have good balance, being able to fight standing on a mast during a terrible storm with a heavy chest in one hand. Amazing.
Ending Prognostication: The pirates survive with the help of Captain Jack's accidental genius and Keira Knightley's pluck.
Conclusion on Trailer: Impressive visuals and rousing soundtrack make this one worth downloading.
Conclusion on Movie: No doubt this one will be a box office bonanza, but my guess is that it will be bloated and unremarkable.