Reviewinator

Trailer
Quicktime
Starring
Director
Len Wiseman
Official Site
Link
US Opening

June 27, 2007

Rated
PG-13
Genre
Best Action Movie Ever Sequel
Explosions
14
Weapons
Pistol, assault rifle, semi, police car, fire extinguisher, gravity, fist, foot, fighter jet

Man Quotient

11.8
(Explosions + Weapons + Hot Babes - Kisses)/ Minutes

Trailer
Déjà Vu
Miami Vice
Geek Factor
35%
See Trailer?
Yes
See Movie?
Yes
Die Hard is my favorite action movie. I watch it every Christmas. Die Hard II was a good action movie, but nothing spectacular. Die Hard III, well, let's forget that one. Now comes the fourth movie in the franchise, I hope it can reverse the downward trend.
Before I get to the review, here's a piece of trivia. Justin Long, who is the "I'm a Mac" guy, was also in Jeepers Creepers, which was the first trailer I reviewed. He's not up there in Jessica Biel or Colin Farrell territory yet, but he's on his way.
The trailer opens with a group of terrorists infiltrating a secure government facility where all the critical computers are. You know the place. You can control all the computers in the world from it.
Their first order of business is to shut down all the FAA computers. Next, is the entire transportation system, then the financial sector. Uh-oh, it's not just the Nakatomi Corporation this time, it's the whole country held hostage.
It's times like these that call for John McClane.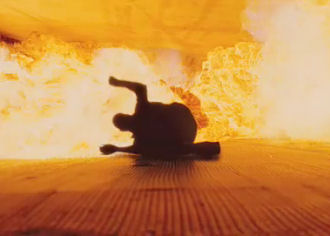 That's looks a little dangerous
From there, it's action sequence after action sequence. Various weapons and modes of transportation are used to pick off terrorists. Buildings blow up. Cars blow up. Helicopters blow up. Dolls blow up. Wait, not the last one. Happily, it's all to an arrangement of Ode to Joy for electric guitar.
Then silence. The terrorists can't have their plans foiled. They have all-grown-up Lucy McClane as a hostage now. Bad idea. That's only going to piss John off more.
Back to the action. More explosions. More fights. Even a face off between a hovering jet fighter and a semi-truck. Nothing is too ludicrous for the fourth installment of a film.
Then we hear the return of the first half of the famous "Yippie-ki-yay" quote. It's great to have that back.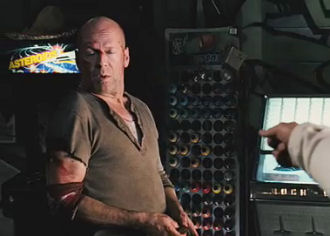 Asteroids? I'd prefer a
Donkey Kong machine

To end it all, Kevin Smith appears as an uberhacker with a "command center" in his basement. As someone with a command center in his BBasement, I'm sure I'll identify with his character.

Ending Prognostication: This one is easy. John McClane saves the day and the terrorists die. Guaranteed.

Conclusion on Trailer: A good mix of action and humor. Hackers as the villains and Kevin Smith ratchet up the geek factor. Worth the download.

Conclusion on Movie: The movie has several factors working against it: Fourth movies in a series are rarely good, the director, the writer, and a bunch of TV actors. I'm going to go see it anyway. It might be a fun popcorn movie, but I doubt it will even surpass Die Hard 2. Hopefully, it'll be better than Die Hard 3, which shouldn't take much.