Reviewinator

Trailer
Quicktime
Starring
Director
Seth Gordon
Official Site
Link
US Opening

August 17, 2007

Rated
PG-13
Genre
Video Game Documentary
Explosions
0
Weapons
None

Man Quotient

0
(Explosions + Weapons + Hot Babes - Kisses)/ Minutes

Trailer
Déjà Vu
Best in Show
Geek Factor
100%
See Trailer?
Yes
See Movie?
Yes
As a kid, Donkey Kong was my favorite game. I never got into Pac-Man or Galaga. It was Donkey Kong. I bought books and memorized the patterns, but I never got much further than the conveyor belt level.
I wanted to buy a Donkey Kong machine and have it in my room. I called several places to find out how much one would cost. If I remember correctly it was around $800, which was out of the price range of a 12-year-old farm boy.
I haven't given up on that dream, someday I'll find the time to build up a MAME cabinet and Donkey Kong will be the first game that I play. I probably could've bought a cabinet with all the quarters I put into that machine.
Now they've made a movie about guys who pumped in a lot more quarters than I did. It's called The King of Kong. It's about two guys, who are the best Donkey Kong players in the world. My guess is that they've gotten past the conveyor belt level a few times.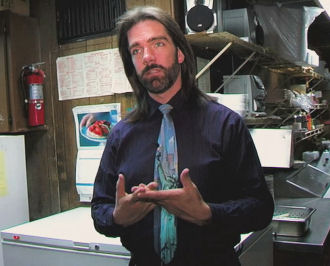 A winner is you!
This is the first time that one of the stars of a movie has sent me email before. I get email from Walter Day at the Twin Galaxies site all the time. It's the site that keeps all the video game records. Walter is the guy in the referee uniform in the poster. I'm guessing that until they turn my BBook into a movie it'll be the last time.
The trailer opens by declaring 1982 as the year that video games ruled. Then we get some guys that look like they're still living in 1982, including the best classic video game player in the world: Billy Mitchell. He set a Donkey Kong record that went unchallenged for twenty years.
Then the trailer introduces Steve, the second best. His wife say's he's come up short in a lot of things, with clips of him playing a miniature drum set. He's a middle school science teacher. He cries a lot. Gee, I wonder why.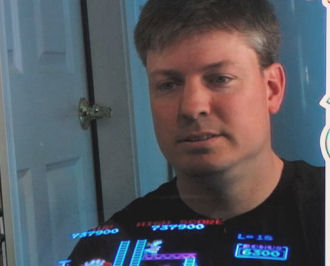 Must. Save. Pauline.

These two guys are the greatest Donkey Kong players ever. Billy tells us that Donkey Kong is the absolute toughest arcade game. He set a Donkey Kong record that stood for twenty years. We learn Billy is a devious person, who moves around bottles of hot sauce on the store shelves.

The showdown is set. Lovable loser against the cocky champion. The loser who must win against the guy who can't lose. How will it end?

Ending Prognostication: I could've cheated and looked to see what the ending was, but I didn't. I don't know who currently holds the record for Donkey Kong or who won the tournament in question. Since this movie is real life, it doesn't have to have a Hollywood ending. The "villain" can win, and I have a feeling he does.

Conclusion on Trailer: The trailer does a perfect job of setting up the characters and the plot of this documentary. With enough glimpses of the characters that we know what to expect, but without giving too much away.

Conclusion on Movie: A movie about classic arcade geeks, with well-defined heroes and villains. What more could a person want?