Reviewinator

Trailer
Quicktime
Starring
Director
Matthew Vaughn
Official Site
Link
US Opening

August 10 , 2007

Rated
PG-13
Genre
Fantasy, Fairy Tale
Explosions
3
Weapons
Swords, magic

Man Quotient

2.9
(Explosions + Weapons + Hot Babes - Kisses)/ Minutes

Trailer
Déjà Vu
Harry Potter and the Princess Bride
Geek Factor
60%
See Trailer?
Yes
See Movie?
Yes
This week I review the trailer for Stardust. The movie is based on a fairy tale written by science fiction author, Neil Gaiman. I have read books by Neil Gaiman, but not this one, so my ending prognostication is like totally legit.
The trailer opens with two lovers and a romantic nighttime picnic. Then a flying star hurtles across the sky, how romantic. He says he's going to pass the "wall" and bring back that star for her. This proves that not only is he in love, but he has a shortage in his science knowledge.
He jumps through the "wall" which appears to be a force field, and journeys off into the night to find the fallen star. The star turns out to be Claire Danes, who isn't too bad of a metaphorical choice to play a falling star. The dopey boyfriend finds her in a giant crater. It's a fairy tale so you don't have to worry about the physics of the thing.
This is no ordinary world. There are flying pirates, evil witches and dashing princes who push people to their deaths. All of them want the fallen star too. Oops, maybe he should've just brought back a rock, and said he found it.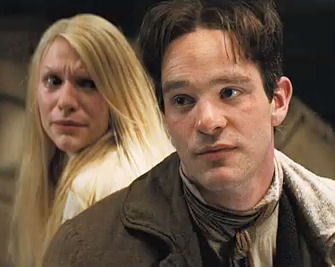 Michelle Pfeiffer is supposed to
get her beauty from her?
Michell Pfeiffer, one of the evil witches, wants the fallen star to bring back the beauty of her glorious youth. In real life, she doesn't need it, but in the movie it took plenty of make up to make her an ugly old hag.
Robert Deniro plays a flying pirate. His boat flies, not him. Well, he's in the boat, so he's flying, but you get what I mean. Ricky Gervais appears and makes a crack about a two-faced dog. Now that the trailer has the stars introduced it can switch to the action.
The last third of the trailer is filled with sword fights, magical explosions and your standard fantasy trailer chorale soundtrack. If there was any doubt this was a fairy tale, there's even a scene where the hero chops a rope and is pulled up by a falling chandelier. Anybody seen that before?
Ending Prognostication: The boy gets the girl. The witch gets destroyed. The good guys live happily ever after. It's a fairy tale, how else could it end?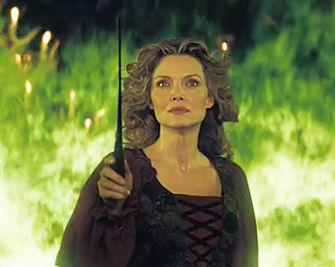 If Voldemort looked like this,
maybe I'd join the dark side.

Conclusion on Trailer: Interesting story and good special effects make this one worth the download. It has a bit too much of the quick-cutting for me. I would've preferred a bit more exposition. Though, then I would've complained that it gave too much away.

Conclusion on Movie: I don't think this will be a movie for everyone. Fairy tales can be hard to pull off. If not handled correctly, they can end up corny and unbearable. In the right hands, they can be heartwarming and entertaining. I think this one has a better than 50% chance of being in the latter category.