When a PR company said they'd send me a copy of The Film Crew's DVD of Killers from Space to review, I decided to once again compromise my reviewing bias to get free stuff. Who can blame me though?
If you're not familiar with The Film Crew, it's the new entity created by MST3K alums Mike Nelson (Mike), Kevin Murphy (Tom Servo) and Bill Corbett (Crow T. Robot) to make fun of bad movies.
This time without robots or mad scientists. There is a "Mr. Honcho" which deliver the movie to them in a brown paper envelope, then talks to them over the speakerphone. After the opening segment, the three guys head to the film room to watch Killers from Space.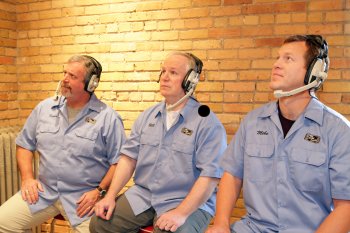 The Film Crew at work
The movie is a 1956 sci-fi film starring a young Peter Graves. In the movie Graves plays Dr. Martin (cue Doc Marten's jokes), a Captain in the Air Force. He's circling a nuclear test explosion in a fighter jet when he spots a bright "fireball" on the ground. He goes to investigate. The plane crashes killing his co-pilot. Graves emerges later unscathed, except for an L-shaped scar on his chest.
It takes a long time for the "killers from space" to arrive, but they only add to the comical awfulness of the film. The movie almost makes you appreciate Uwe Boll. As the movie continues we learn that Graves must escape the killers, who plan to destroy the population of earth with giant mutated lizards and bugs. In the end, he must escape from the hospital and violate parking restrictions to foil the aliens' plan.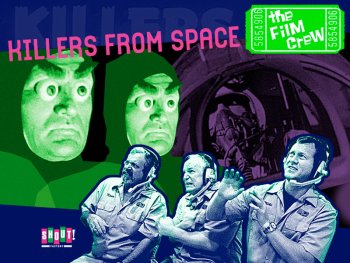 The most menacing aliens ever!
Of course, we expect the movie to be terrible, that's part of the fun. The comedy provided by the film crew is top quality. There's no silhouettes to point things out on the screen, but it's still entertaining.
The film is structured much like MST3K. There's the opening host segment with The Film Crew, then the film itself. Halfway through the movie they break for "lunch" which is just another excuse to do another comedy skit. Then it's back to watch the rest of the movie followed by another comedy skit.
It definitely felt like MST3K all over again which is a good thing. There's no annoying extra characters, just the three guys from the film crew. That's a good thing.
There is one extra on the film. It's only a few minutes, but it's always nice to see extras on a DVD.
Conclusion on DVD: Top quality comedy, fans of MST3K and BBspot should enjoy it like I did. Definitely worth checking out.