Reviewinator

Trailer
Quicktime
Starring
Director
Francis Lawrence
Official Site
Link
US Opening

December 14, 2007

Rated
PG-13
Genre
Classic Adaptation
Explosions
6
Weapons
Assault rifles, fighter jet, handgun, zombie dogs, zombie people

Man Quotient

4.13
(Explosions + Weapons + Hot Babes - Kisses)/ Minutes

Trailer
Déjà Vu
28 Days Later
Geek Factor
75%
See Trailer?
Yes
See Movie?
Yes
I haven't done a trailer review in a couple of months, but I didn't think you wanted my opinion on Bee Movie or Dan in Real Life. Finally, here's something you might actually want to see.
Will Smith stars in this adaptation of the Richard Matheson novel about the last man on earth and his dog. It's been tried twice before with The Last Man on Earth starring Vincent Price and The Omega Man starring Charlton Heston.
A plague has wiped out the entire population of the earth. Only Will Smith survived. Unfortunately for him, it also turned some of the residents of New York into even more pushy jerks than normal. In fact, at night they want to eat you.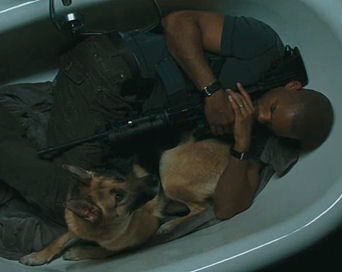 Wasn't there a pillow somewhere?
The trailer opens with a panicked New York City. People are trying to escape "the infection" in Manhattan, but the US Air Force bombs all the bridges. Luckily, Will Smith is an immunologist and has connections. He gets his wife and kid on a helicopter. It doesn't matter. No one makes it.
Smith broadcasts a message hoping that some other survivors exist. No one comes.
His post-apocalyptic day goes normally. He wakes up. Exercises. Eats breakfast. Plays golf on an abandoned aircraft carrier. Shops for books and movies while talking to the mannequins. Then he heads to downtown Manhattan for some deer hunting and corn gathering. Unfortunately, a lion gets the deer before he does. Mmm… roast lion.
Night comes. The monsters come out at night. So you need to be back home and in the bathtub with your gun and dog. An unseen plot point forces him from the relative safety of his home.
This leads to a big action montage. Attacking zombies. Attacking dogs. Attacking zombie dogs. He pleads with the zombies to let him fix it, but they don't look willing to accept that they have a problem.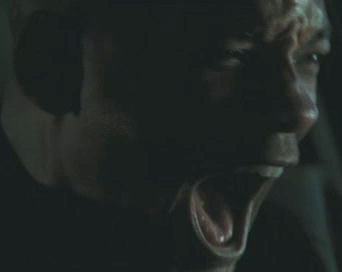 In post-apocalyptic New York,
no one can hear you scream.

Ending Prognostication: As in all zombie movies, the hero will fight a valiant fight, but eventually be overcome by the sheer number of monsters. I haven't seen the previous movies or read the book yet, so this is a fair guess.

Conclusion on Trailer: Builds good suspense and gives a good view of a post-apocalyptic New York. It does feel like you're seeing the whole movie though. I don't think they should've shown the zombies. Left something to the imagination.

Conclusion on Movie: I'm interested to see how much is dedicated to the pre-apocalypse and how much to the post. Once everyone dies, there's no one but the dog to talk to, much like Castaway with Tom Hanks and his ball. That could get old quick, but I'm holding out hope that this one works, so I'm recommending it.