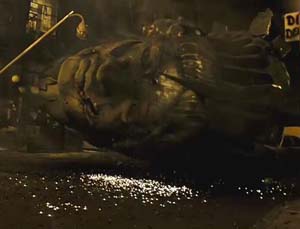 Last week's trailer (Dungeon Siege) provided a good starting point for my plan to go see the movie for every trailer I review. If I can endure an Uwe Boll film, then I can endure anything. I might not get those two hours of my life back, but I survived.
This week's trailer for Cloverfield provides a much more promising movie, but then again, that's not saying much.
A good starting point for this trailer would be to watch the talk that J. J. Abrams gave at the TED conference. The short version of the talk is that an unopened "mystery box" provides excitement and sparks the imagination. Not revealing something can be much more exciting as purveyors of soft porn know.
If you've ever watched Lost you can see this "mystery box" theory in action. There are plenty of unopened boxes all around the island. However, keep those boxes closed for three years and keep tossing more onto the island can get frustrating. For this two-minute trailer though, it works.

The trailer opens with a mystery box (see image) that creates many questions. What's "Cloverfield?" What happened to the person with the camera? What happened to Central Park? Don't I go to movies to avoid reading?
The trailer tries to answer those questions without giving too much away (though I hope the camera guy dies because he seems a bit annoying).
The trailer is composed of what we're supposed to believe is homemade footage of a monster attack. It's pieced together with lots of quick cuts and static.
The only glimpse of the "monster."
First, we see a party, then a giant explosion in the distance. Next we get closer to the action. In an Independence-Day-trailer type shot (think White House being destroyed), the head of the Statue of Liberty comes flying down the street.
Next, we get a guy filming himself saying that something has attacked the city. If you're watching this then you know more than he does. By the dopey look of the guy, I'd say that it's not too much of a stretch to believe.
A series of quick cuts piece together a semblance of a story while showing the chaos of the monster attack on New York. A group of friends are trapped on Manhattan, and they're trying to escape. The military arrives, but they can't stop it.
The friends are being pursued, and realize that whatever it is, "It's alive!" Finally, they make it to a military helicopter for escape, but next we see the helicopter spiraling out of control. Escape isn't going to be that easy.
We never see the monster. We can tell it's big from the sounds and its path of destruction, but the mystery remains. I'm glad a trailer finally leaves something to the imagination. I hope it can deliver.
Reviewinator

Trailer
Quicktime
Starring
Director
Matt Reeves
Official Site
Link
US Opening

January 18, 2008

Rated
PG-13
Genre
Monster movie
Run time
84 minutes
Explosions
4
Weapons
Flying debris, rocket launcher, assault rifle, tank, fighter jets, AA gun
Man Quotient

6


Trailer
Déjà Vu
Godzilla Meets Blair Witch
Geek Factor
65%
See Trailer?
Yes
See Movie?
No (verified)
Follow Up
Posted
Ending Prognostication: The group of friends will escape Manhattan finally, but not without some casualties. The government will be responsible for the monster in some way. Someone in the group of people will figure out how to cause a giant explosion to destroy the monster. Sequel potential will be maintained.
Conclusion on Trailer: The trailer is great. It makes me want to go to see the film. It doesn't give too much away. The mysteries of the movie are still intact. The quick cuts are a bit annoying, but tolerable. The lack of a pounding rock soundtrack is welcoming.
Conclusion on Movie: Blair Witch Meets Godzilla. Blair Witch worked because it was low budget, so like real footage filmed by the actors. This goes for that visual effect, but with a much higher budget. I'm not sure that's going to work. There are no stars in the movie, which isn't necessarily bad, but it does mean the movie is relying on unproven talent. The director and writer are unproven as well. While the trailer is promising there are too many factors working against it. I think it will be better than Dungeon Siege, but I don't feel comfortable giving it a recommendation.