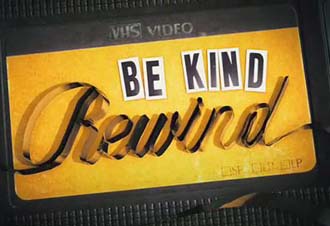 Here's a challenging trailer to review. No explosions, no real weapons, no hot women; the Man Quotient would've been zero except I gave them credit for the Robocop hair dryer. It's funny on its own and actually good. What's a sarcastic cynic supposed to do?
The trailer opens with some angry customers returning tapes to Mos Def's video store. All the tapes are blank. Jack Black thinks it's the TV, but it's not, it's Jack Black's magnetic personality. Well, he has a magnetic brain that not only can kill a yak from 200 yards, but also erases all the videotapes in the store.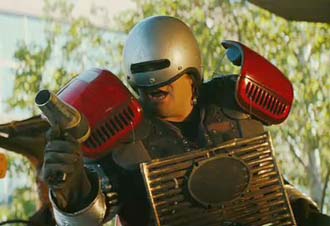 The obvious solution would be to buy new tapes and keep Jack's magnetic head as far away from them as possible, but Jack has a better solution: film their own versions of the movies.
Their first try is Ghostbusters. It's a low-budget production, but people love it, so they're encouraged to CONTINUE! Next comes Robocop, followed by Rush Hour 2, 2001, and Boyz in the Hood. Pre-YouTube folks are eating it up. They love the guys' films, and are lined up around the block to rent them.
But a villain appears. He has a warrant to destroy all the tapes. He reminds them of the FBI warning at the beginning of the tape, to which Jack replies, "We erased that." If only that worked.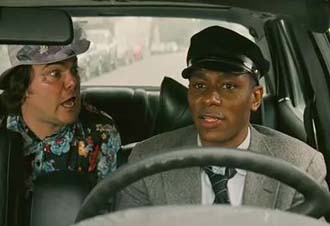 That gets to the heart of the geekiness of this movie, the issues of mash ups and fan films in an era of copyright law craziness. Hopefully, this movie brings some serious discussion to the public sphere, and doesn't tow the standard MPAA line that usually happens in films. People need to know there is a difference between creating something new out of something old, and piracy. From the trailer it looks like the creators of the film get that distinction.
The point of this film is that while the guys' movies might not be big budget, they're made with a passion and heart that comes through on film. The videos are stripped of any Hollywoodness, and bring the joy of film back to the average person. Of course, this works as a movie theme, but in reality it doesn't always work that way.
Reviewinator

Trailer
Quicktime
Starring
Director
Michel Gondry
Official Site
Link
US Opening

February 22, 2008

Rated
PG-13
Run Time
101 minutes
Genre
Comedy
Explosions
0
Weapons
Hair dryer
Man Quotient

0.4


Trailer
Déjà Vu
Tenacious Def
Geek Factor
75%
See Trailer?
Yes
See Movie?
No (revised)
Follow Up
Here
Fun with IMDb: From the second unit director of American Ninja 3: Blood Hunt and the star of The Beach Part at the Threshold of Hell comes a movie with the same gaffer as Dottie Gets Spanked.
Ending Prognostication: Jack and Mos will appear to be beaten by the authorities, but fan support will rescue them.
Conclusion on Trailer: I'm hoping they haven't shown all the movies that they create in the trailer. That would be disappointing. I like that the movies they make aren't cheap parodies like a Scary Movie-type send up, but like two creative guys just trying to do the best they can. This trailer is funny, and got me excited about going to see a movie, that's a first so far this year.
Conclusion on Movie: This one will have some weak moments, but overall will be funny and thoughtful enough to make it worth recommending. Be kind, please don't disappoint me.