Reviewinator

Trailer
YouTube
Developer
Valve
Official Site
Link
US Release

October 9, 2007

Rated
T-M
Genre
Various
Gamebox Clichés
Quote from gaming website, PC Gamer endorsement
Explosions
1
Weapons
Turret, flamethrower, handgun, crowbar, chaingun, d0g, rocket launcher
Version
PC DVD Box
In a World...
"Open your mind to a new way of gaming... "
Game Box
Déjà Vu
The Reddish Box
One Word Review
Orange
Spoilage Factor
10%
Geek Factor
90%
See Box?
Yes
Play Game(s)?
Yes
I started writing game box reviews a couple years ago because I had accumulated a bunch of games, but didn't have a computer powerful enough to play them. That and there weren't any good trailers out and I was desperate for content.
Soon after I started writing the box reviews, I acquired my current systems and the games were played. Doing game box reviews lost their true purpose.
While I have a computer system which can handle games now, it appears I've developed a personality that can't. I purchased The Orange Box hoping to get many hours of entertainment (and I have), but I've had to uninstall several times to keep productive.
Therefore, I'm back to having game boxes, but not being able to play the games. Back to the game box reviews for me.
This version of the game comes in a double-wide DVD case. This limits the artwork to a wrap around insert on three sides instead of the full six with flip cover that previous reviews covered. Given that the box contains five full games this is a bit disappointing.
When deciding what palette to choose from when designing the box, the designers had a tough decision. Should they go with orange to match the titular color, or should they confuse everyone and make it mauve or cyan? They decided to play it safe and go with orange. You can't really blame them, but maybe a big release like this needed some out of the box thinking.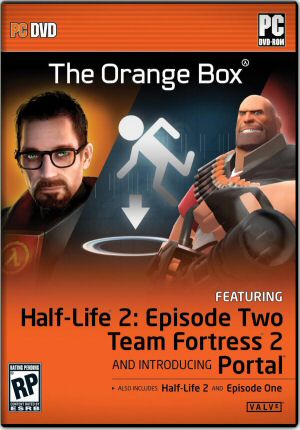 Three of the sides are black plastic. Not much to review there, though the bottom of the box has some molded feet so it can stand without tipping. Also, it's surprising that Valve didn't go with orange plastic, so the game would be in an actual orange box instead of just an orange insert. Probably a cost issue prevented that.
The front of the box features images from the three "new" games released in the set: Half-Life 2: Episode Two, Portal and Team Fortress 2. Text includes The Orange Box and the titles or the three games, including the two other games: Half-Life 2 and Episode One. An ESRB rating and a PC Gamer Editor's Choice logo also adorn the cover
It's a rather simple cover with only about 60% of it taken up by the images. The orange color will be sure to attract attention on store shelves as well as keep the box safe during deer hunting season.
The images used are a head shot of Gordon Freeman for Episode Two, a stick figure falling through a hole for Portal and a Heavy from Team Fortress 2.
The spine of the box is solid orange with black lettering of "The Orange Box – Five Games, One Box." There are also silhouettes of the three new games on the bottom. Simple yet effective.
As usual the back of the box presents a more complete source of information. The quote "The best deal in videogame history." from IGN.com adorns the top of the back cover. You can always count on IGN to provide a hyperbolic quote for your game box.
In the meat section of the back cover you get the new games' titles along with images from the game and a single paragraph describing the games. Below that appears pictures of the boxes from Half-Life 2 and Episode 1, so you get a box shot on a box. If only those covers had images of boxes on them, then we could create a neverending stream of boxes that could spontaneously combust.
Along the bottom of the back cover you get the ESRB rating, the logos for Valve, Source and ATI along with a copyright and trademark information that's rather long because there's FIVE GAMES IN ONE BOX.
The text contains the standard hyperbolic fare for game boxes, including two uses of the term "breathtaking." It won't be long before Valve is named in a lawsuit for killing some poor asthmatic.
Conclusion on Box: Overall the designers did a good job with a rather difficult task: Three new games and two previously released games in one box. There's enough information on the box without being overwhelming. I was disappointed by the choice of using black plastic instead of orange.
Conclusion on Games: I'm cheating a bit since I've already played the games in here. All of them are a lot of fun.