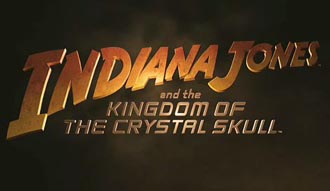 This is a short trailer. Usually trailers are two-and-a-half minutes; this one's only a minute-and-a-half. Add to that the long intro and outro, and you end up with not much meat. If you're a vegetarian, that's a good thing. If you're a carnivore hungering for a giant slab of Indiana prime rib, then you'll be disappointed.
The trailer opens with shots of beautiful waterfalls, and Indiana Jones explaining the titular crystal skull. We even get to see the crystal skull. So much for surprises. There's a city of solid gold guarded by the living dead, he tells us. If you bring back the crystal skull to the temple then you'll get all the power of the city, which probably is similar to the face-melting powers of the Ark.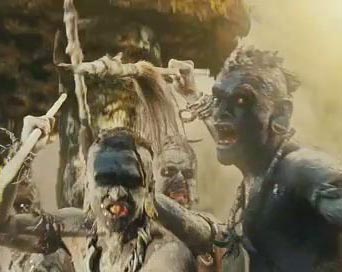 Do you mind if we dance with your dates?
Halfway through the music kicks in and we get the action montage. A chase scene with Nazis, flying through a warehouse full of boxes on a bullwhip, menacing natives with spears, all the things you'd expect in an Indiana Jones film.
It's comforting this film isn't straying far from the successful formula, though I wonder what new insight it'll bring to the franchise. How many variations of Indiana Jones beating the Nazis in the jungle can be interesting?
It's at this point in the review where I point out that Indiana Jones is eligible for Social Security benefits, and is probably still in better shape than I am. Jerk.
Even though the trailer is short, it does appear to show clips from many major action sequences, hopefully not all of them. It'd be nice if something were left a mystery.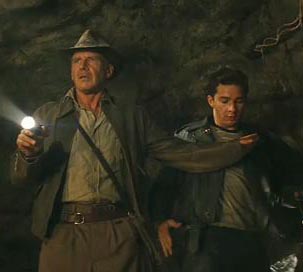 Not yet buddy, this is still my show.
Since there isn't much to review here, I'd like to insert a couple of ideas I have for the next Indiana Jones movie (I'll avoid the obvious senior citizen jokes, so read on.) First, it would be great to see Indy in a different time period, so how about Indiana Jones and the Time-traveling Elephant Tusk? The magical tusk transports Indy to the future where more powerful weapons render his whip ineffectual. This would be the last movie in the series.
If that doesn't work for you Mr. Lucas, how about making an Indie Indy with Guy Pearce as Indiana Jones? In this black and white film, Indy would be a drug-addled archeologist who can't leave his home because of agoraphobia. A friendly prostitute living next door, played by Cristina Ricci, helps him cope.
Reviewinator

Trailer
Quicktime
Starring
Director
Steven Spielberg
Official Site
Link
US Opening

May 22, 2008

Rated
PG-13
Genre
Fantasy Series
Explosions
14
Weapons
Swords, bow and arrow, pollaxe, trebuchet, shield
Man Quotient

8


Trailer
Déjà Vu
Some other Indiana Jones Movie
Geek Factor
50%
See Trailer?
Yes
See Movie?
Yes
Follow Up
Pending
Fun with IMDb: From the star of Even Stevens and the producer of Star Wars: Episode I – The Phantom Menace comes a film that was also once known as The Untitled Genre Project.

Ending Prognostication: Yet another difficult one for me to guess. Let's see, Indiana Jones saves the day. He doesn't lose his hat. Snakes, why did it have to be snakes?

Conclusion on Trailer: The short run time of the trailer make it difficult to rate. Most people are familiar with the franchise, so it's best not to give much away. This one succeeds, but you won't be missing much if you don't watch it.

Conclusion on Movie: This one has a lot of red flags popping up all around: Shia LeBeouf, Karen Allen, number four in a series. It doesn't matter, we all want it to be good, so you're going to go see it no matter what I say. Me too.