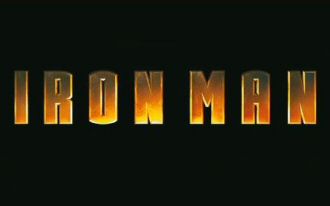 I have to admit that I don't have much knowledge of the Iron Man franchise. My only exposure is the cheesy 70's cartoon which I only vaguely remember. You know the ones, with Thor, Hulk, Submariner and others.
My ignorance doesn't matter though. The trailer sets everything up for us and more in two and a half minutes.
The trailer opens with Tony Stark riding in a humvee drinking a Scotch. He makes witty comments. He's on his way to demonstrate a new weapon he's designed for the military. So there you go, Tony Stark is a witty, alcoholic weapons designer. What more do you want in a superhero?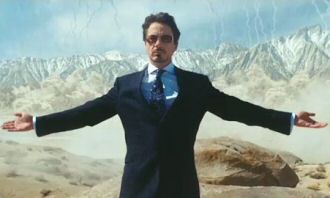 After the successful demo, his transport is ambushed. Bad guys kidnap Stark and force him to use his weapon design skills for evil (much like what happens at Microsoft.)
Stark begins work on the beta version of Iron Man. He uses this creation to escape from the bad guys, but he forgets to take the plans with him.
Stark has his Uncle Ben moment he declares with great power (to design killer weapons) comes great responsibility. He's seen the light. He wants to protect the people he puts in harm's way, and gets to work on Iron Man release candidate. Luckily for him, he's got a multi-billion dollar research facility right in his own home.
There's plenty of montages and comic relief during the creation stage, but finally it's complete.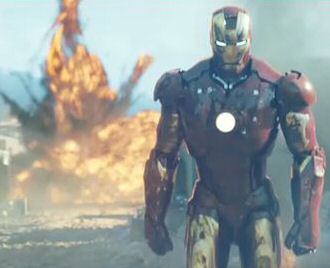 All is not well though. The bad guys discover the plans for the beta version. They create an Iron Man of their own, and this one's totally steampunking it.
Next we get action montages of Iron Man 1.0 vs. Iron Man .78 to a pounding rock soundtrack. Yeah, this trailer has a lot of song snippets and montages. It's a trailer for an action movie, what do you expect?
Interspersed among the action is the oft quoted, "This is not the worst thing you've caught me doing" line. It was funny the first time, but I have a feeling even geeks are going to get tired of hearing it.
And finally, no action trailer would be completed without the hero walking away from an explosion in the background. I know it's cliche, but it works here. When I finally make my action trailer, I'm going to have the hero walking away from the explosion. Then he'll get speared in the back of the head by flying debris. Yeah, I'm that evil.
Reviewinator

Trailer
Quicktime
Starring
Director
Jon Favreau
Official Site
Link
US Opening

May 2, 2008

Rated
PG-13
Genre
Comic Book-to-Movie
Explosions
28
Weapons
Machine gun, missiles, assault rifles, hand blaster, fighter jets, flamethrower, flying cars, tank
Man Quotient

16.8


Trailer
Déjà Vu
Spider-Man
Geek Factor
99%
See Trailer?
Yes
See Movie?
Yes (confirmed)
Follow Up
Here
The special effects are impressive. The steampunk beta version looks cooler than the release version, but the CGI used on both is excellent.
Fun with IMDb: From the star of Muggable Mary, Street Cop and the Director who was thanked in the credits of Joe Dick comes a movie with more writers than you'd expect in an action film with more explosions than dialog.
Ending Prognostication: Iron Man wins. Chance of sequel 100%.
Conclusion on Trailer: A most excellent trailer. Plenty of cliches, but they're done well. It definitely makes me want to see the movie. My only complaint is that it feels like it gives too much away, but we already know how this one's going to end, so I guess it doesn't matter.
Conclusion on Movie: The trailer sets expectations high, so hopefully the movie can live up to it. It launches the summer blockbuster season a little early, but after the dismal movies I had to watch in the first three months of the year, I welcome it.