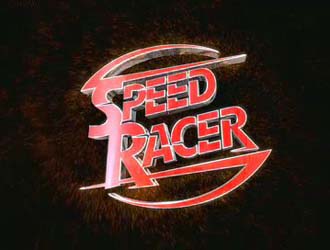 When I saw the first trailer for Speed Racer, I thought it looked like a candidate for the "Worst Trailer of the Year" award. However, that fourth trailer that has been released doesn't look all that bad. Is it good enough to make me want to see the movie? Read on to find out.
The trailer opens with a young Speed Racer (it's his name not his title) in elementary school fantasizing about racing cars instead of a young Christina Ricci. His teacher tells his mom (Susan Sarandon) that this could lead to an unhealthy fascination with automobile racing.
Right away, it's clear that this is a cartoon brought to life. I can't think of any time that turned out good. Cartoons are meant to be cartoons for a reason. When live actors do cartoon things, it just doesn't work. Maybe this movie will be the exception, who knows?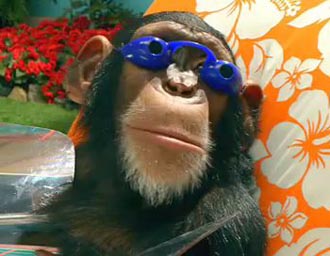 Then we hear that not only is he going to be a good racer, he's going to be the best. With a name like Speed Racer, he better be, or he's going to be teased unmercifully for the rest of his miserable life.

Next, we get a montage of racing scenes, and then more racing scenes. I'm not sure what universe they take place in, but the laws of physics do not apply. Well, at least not the real laws of physics, the cartoon laws of physics apply, but even they are stretched to the limit.

Then the brooding superhero moment, in which Speed Racer confides to Christina Ricci that someone is trying to crush everything in his life that matters to him. I'm just guessing he means his car since that's all he cares about.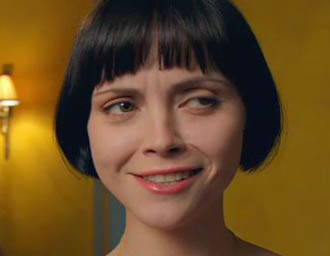 Then - HOLY CRAP, NINJAS! LOOK OUT!
You've got more ninjas, and then a monkey with sunglasses. Ouch. Please make it stop.
Finally, we get the "Q scene" from James Bond. Speed Racer must compete in a race with the most dastardly drivers (you can only use dastardly in cartoon-related prose these days), so they've upgraded his car to be more kick ass. It can block attempts to destroy his tires. If that doesn't work, he can grow new tires instantly.
The visuals look cool, but the acting? Not so much. I know cartoon characters don't have much range, but Hayden Christiansen looks like Al Pacino compared to the guy playing Speed Racer.
Reviewinator

Trailer
Quicktime
Starring
Director
Wachowski Bros.
Official Site
Link
US Opening

May 9, 2008

Rated
PG
Genre
Cartoon-to-Movie
Explosions
2
Weapons
Ninja, feet, studded balls, tire eater
Man Quotient

4


Trailer
Déjà Vu
Super Mario Bros.
Geek Factor
55%
See Trailer?
Yes
See Movie?
No
Follow Up
Pending
Fun with IMDb: From the star of That Darn Cat and the executive producer of The Dukes of Hazzard comes a movie with the same sound editor as TV's Fantasy Island.
Ending Prognostication: Speed Racer will win the final race and defeat the dastardly villains (much to their chagrin).
Conclusion on Trailer: The special effects are great, but that's about it. The glimpse of John Goodman gave me bad flashbacks to The Flintstones movie. It improved on the first trailer released, but I'm still not looking forward to this movie. I recommend watching the trailer though, but skipping the movie.
Conclusion on Movie: A movie relying on cartoony special effects and terrible acting cannot sustain a ninety-minute movie let alone the two-hour runtime this one has. I can't recommend it.