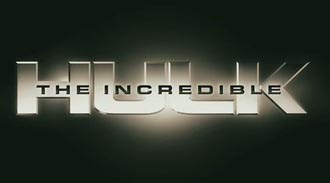 You are getting very sleepy. When I snap my fingers, you won't remember that there ever was another Hulk movie. You will forget Iron Man was released six weeks ago with a nearly identical plot. You will forget the love scene in the rain from Spider-Man.
<snap>
I decided it would be best to undergo hypnotherapy to review this trailer. I do that to keep a fresh perspective on the movies, and to erase some painful memories (Pokémon Heroes anyone?)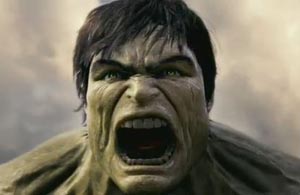 Yoda! Y-O-D-A, Yoda.
The trailer opens with Bruce Banner (Edward Norton) in what looks like the slums of a South American city. He has to stay away from people until he can solve his problem (moody, too indy?). Unfortunately for him the military won't leave him alone. They accuse him of stealing military secrets, and send in an assault team to get him.
The chase is on. Banner jumps from rooftop to rooftop in the slums evading the superior military force. He escapes to the woods, then to the snowy peaks of Caradhras. Finally, he rendezvous with Liv Tyler on a bridge during a rainstorm. What is it with these superheroes and their women in rainstorms?
The military doesn't give up. Finally, they corner him on a college campus, and that's when things go completely CGI. The Hulk goes crazy and starts destroying government property. Doesn't he know about the deficit? Who's going to pay for all of this?
I didn't know the Hulks could fly
Not Tim Roth. He's a bad ass commando who faces down the Hulk on the battlefield. He gets a (what would be deadly if the movie followed the laws of physics) kick to the ribs. Memo to Tim Roth: If you're going to play a bad ass commando, maybe you should do a few push ups before you take your shirt off.
Next we see Roth getting injected with the same hulkifying serum. Since we can't control one of the Hulks, how about we make a second to capture the first? Military intelligence in action.
Reviewinator

Trailer
Quicktime
Starring
Director
Louis Leterrier
Official Site
Link
US Opening

June 13, 2008

Rated
PG-13
Genre
Marvel Comic
Explosions
5
Weapons
Helicopters, assault rifles, Hummer, tear gas guns, flying debris, Hulk, minigun, mean Hulk
Man Quotient

5.2


Trailer
Déjà Vu
The Incredible Spider Iron Man
Geek Factor
90%
See Trailer?
Yes
See Movie?
Yes
Follow Up
Pending
Not surprisingly, the cunning plan doesn't go so well. The Brown Hulk goes a bit nuts and we have to call in the Green Hulk to stop him. This leads to the climactic battle where absolutely no one in the theater will know who is going to win.

Ending Prognostication: Green Hulk will beat Brown Hulk. After seeing Iron Man this one will end with a set up for the Avengers movie. There's no doubt about that one.

Conclusion on Trailer: I liked the trailer despite it revealing too much of the story line. It shows what the movie is going to be about, and gets me excited to go see this one. I'm not a huge Hulk fan, but from the trailer it looks like I'll enjoy the movie.

Conclusion on Movie: This one doesn't look like the slam dunk that Iron Man did. I think this one might suffer from being released so close to Iron Man. The comparisons might kill it, and so might Liv Tyler. Hopefully, Edward Norton can balance it out.