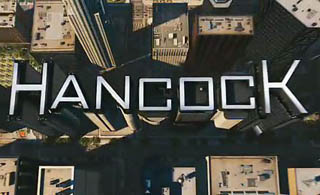 I'm sure at one point this project was entitled "Will Smith Superhero Vehicle." Just a guess, but I'm probably right. Here's another guess, some overpaid movie executive chuckled at the title like a twelve-year-old boy.
Will Smith plays the title character Hancock (teehee) who is, you guessed it, a superhero; a superhero with a PR problem, a drinking problem and a shaving problem too.
The trailer opens with what probably is the opening scene of the movie: a car chase on a southern California freeway. The perps are four gang members with Mac 10s. The police can't stop them, but Hancock can.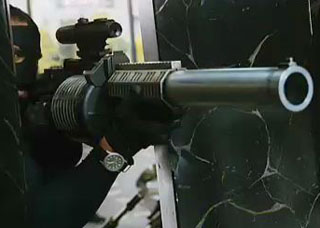 That's not a gun. Now, that's a gun.
He comes flying into the back of the perps car with his bottle of whisky acting all drunk-like. They try to shoot him and the bullets rebound off him. Now that his superman status has been established, he can turn into Fred Flintstone. Hancock shoves his feet through the floor of the car grinding it to a halt. Yabba-dabba-brew!
If it ended there he'd be all right, but his drunk ass takes it too far. He flies the car through the city, banging it on buildings, then attaches it to the spire of the Capitol Records building. That's property damage son, and that pisses taxpayers off!
For his next feat he crash lands next to some snotty kids. He dares one of them to call him a "jackass" again, which the kid does. Not smart. Hancock flies him to the stratosphere and lets him fall. Luckily, superhero physics apply and Hancock's able to catch the kid before he hits the ground, which of course protects the kid from any injury even though the g-force of the stop would snap his head clean off.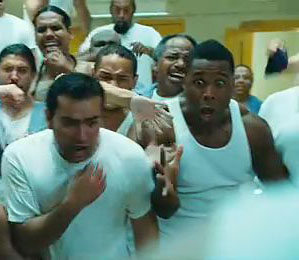 The boys in prison don't want
to be Hancock's bitch after
seeing the whole package.
It was all a ruse though anyway, by a PR executive played by Jason Bateman. Jason wants to improve Hancock's image. Jason's wife, played by Charlize Theron, thinks Hancock is a lost cause.
Bateman doesn't agree even after viewing a video on YouTube of Hancockian heroism where the cure is worse than the disease. A beached whale needs some help. Hancock takes the whale by the tail and tosses him into the ocean. He destroys a boat and probably the CGI whale in the process.
Bateman's solution to Hancock's image problem? Go directly to jail. Next, we get a couple humorous clips of Hancock in jail. He pulls over the chain gang with his superhero strength. He shoves one inmates head up the ass of another with his superhero agility.
Reviewinator

Trailer
Quicktime
Starring
Director
Peter Berg
Official Site
Link
US Opening

July 2, 2008

Rated
PG-13
Genre
Action
Explosions
11
Weapons
Submachine gun, BFG, gravity, whale, sniper rifle, shotgun, assault rifles, gas cylinder, train
Man Quotient

9

Trailer
Déjà Vu
Drunk Spider-Man
Geek Factor
75%
See Trailer?
Yes
See Movie?
Yes
Follow Up
Pending
While he's kicking ass in jail, the criminals go on a rampage on the outside. Finally, the chief of police has had enough and calls for Hancock's release. This time he'll try to save the world without destroying it in the process. He's got a slick new suit, and a better attitude.

If they've managed to put a couple of product placements in the trailer, I can't imagine how many will be in the movie. First, you get the mention of YouTube. Second, in the obligatory brooding-superhero-looking-out-over-the-city-from-the-top-of-a-tall-building scene, you get a gigantic US Bank sign.

Ending Prognostication: Hancock will overcome his demons and save the world. One of the people close to him will turn out to be a villain.

Conclusion on Trailer: The trailer has some genuinely funny moments, and some interesting situations. It lays out the story, but like most action trailers these days, reveals too much about big action scenes.

Conclusion on Movie: This one appears to follow the man overcomes his demons plot line quite closely. In this case it's a superman but that doesn't make it much different. This one is close, but I'm going to give it a recommendation based on the humor in the trailer, and the actors involved.