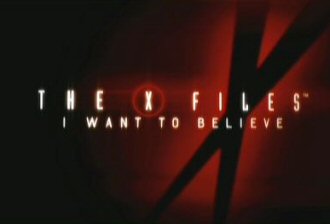 The biggest problem with TV shows turning into the movies is that it's hard to not make them seem like longer versions of the TV shows. If I'm paying $10+ to go to the movies then I want something more than a two-part episode. Most of the time it feels that way because there's a reason the actors are on TV.
Since I'm only on the third season of The X-Files, I haven't seen the first movie nor will I see this one until I get deeper into the series. I do feel that The X-Files is a series that can pull off the transition though, but this trailer doesn't do much to convince me.
It's a short trailer. Nearly a minute shorter than most I review. One can only hope that it's not short because of a lack of good material to put in the trailer, but because they want to keep the mystery intact.
The trailer opens on a frozen night in the North. Father Joe, played by Billy Connolly describes a vision he has of a woman. He says, "They're out there." Then we see a bright light which were supposed to think is a UFO, but on the series always turns out to be a helicopter, or some other earthly vehicle.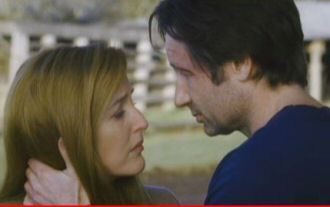 I want to believe.
Next, we see Amanda Peet as an FBI agent and Xzibit as the FBI chief. Peet calls Mulder into the case because of his expertise on the X-Files.
Father Joe claims to have a psychic connection. He tells Mulder that his visions are "God's work." Of course, Scully thinks the visions might be coming from somewhere else. Aliens? The government? Brain chemistry?
It must be coming from somewhere because all of a sudden Father Joe has bleeding eyes. Bleeding eyes! Isn't that creepy?
Next comes an "action" montage interspersed with scenes of Father Joe leading a gaggle of FBI agents across a frozen lake. He starts yelling, "It's here. It's here!" I'm guessing it's a dead body in the ice, but it could be a alien fish or something. I mean this is the X-Files.
Reviewinator

Trailer
Quicktime
Starring
Director
Chris Carter
Official Site
Link
US Opening

July 25, 2008

Rated
PG-13
Genre
TV-to-Movie
Explosions
0
Weapons
Scalpel
Man Quotient

1

Trailer
Déjà Vu
The X-Files
Geek Factor
95%
See Trailer?
Yes (for fans only)
See Movie?
Yes (for fans only)
Follow Up
Pending
There's a bit of teasing with Mulder and Scully. He's begging her to help him work the case. It one brief clip in the trailer it appears they are pulling together for a passionate kiss. Could it really be happening? Will they finally get together?
Ending Prognostication: The ending will be murky with no clear conclusion on the parapsychology of things. Mulder and Scully won't get together.
Conclusion on Trailer: An interesting trailer that doesn't reveal too much. There's not a lot of action in the trailer either. Plenty of hints, but nothing conclusive. Worth a download if you're an X-Files fan (which you probably are). Otherwise, you won't care that much.
Conclusion on Movie: This looks like an expanded television episode of the TV series with some higher priced costars. Nothing in the trailer though scares me off completely, so I'll be recommending this one (not that it will matter). If you're a fan of the show you're going to see it, if not you probably won't (unless a fan drags you there).