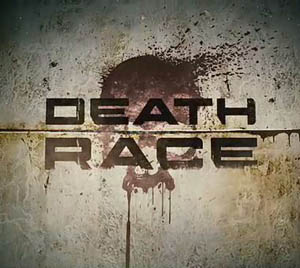 In the original, contestants raced across the country getting points for running down pedestrians in an overpopulated world. If only global warming had a fun solution like that. This remake of Death Race is more like Mad Max meets The Running Man than Death Race 2000.
Joan Allen is a TV producer of the hit show Death Race, which pits prisoner against prisoner in a race to the death with the winner getting freedom. I think you're sending the prisoner a mixed message when you let him out after he commits more murders. Just sayin'.
You can tell right away that this script will be full of clichés when Allen intones, "The rules are simple, there are no rules." Congratulations to Matt in Waukegan for completing his movie trailer cliché bingo card. Good job.
Next, we get shots of a race in progress. It's black cars in a gray landscape. Not much color in the death race universe, but I guess we shouldn't expect rainbows and unicorns. The cars are tricked out with armor and guns. They crash into each other and blow things up.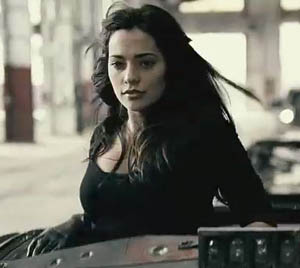 This is what the lady who does the voice on your GPS system looks like.
Jason Statham is introduced as the NASCAR driver who killed his wife. Seriously, if you were casting a NASCAR driver, Jason Statham would be near the end of the list. Heck, Tom Cruise made a more convincing NASCAR driver. Anyway, he proves his machismo in a typical prison cafeteria fight scene. When will prisoners learn never to pick on the new guy in the cafeteria?
Joan Allen wants Statham to drive in the death race for his freedom. He just has to survive… and win. Though it's probably rare for a dead guy to win, but I guess it could happen.
Now it's time to explain the race. It takes place in three stages over three days. Each driver gets a navigator. Apparently, in this death race future they haven't invented GPS systems yet. Take a wild guess who the navigators are. If you said the hotties from the women's prison, you would be correct. Not that these women look like anything you'd find in a women's prison in this reality, but I guess that's what we get for having GPS systems.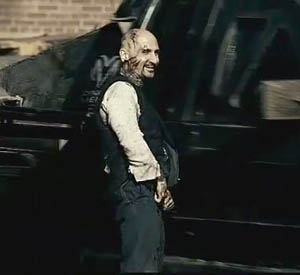 You don't know my name,
but you've seen me before.
Finally we get to meet the car. It's a Mustang with armor, smoke, oil, napalm and big guns, all the things a car in a video game might have. Spyhunter anyone?
Interspersed with the race montage action scenes that close out the trailer, it's revealed that Statham was framed for the murder of his wife. Thanks for that. Now, we don't even have to see the movie.
I just want to add that this trailer features Robert LaSardo, whose name you might not recognize, but you've seen him in just about every TV show and movie that needs a tattooed prisoner or gangster. I guess if you're dealing with clichés, he's the guy to get.
Reviewinator

Trailer
Quicktime
Starring
Director
Paul W.S. Anderson
Official Site
Link
US Opening

August 22, 2008

Rated
R
Genre
Remake
Explosions
25
Weapons
SMG, 30mm machine guns, killer cars, assault rifle, cow catcher, hand gun, lunch tray, helicopters, fists, riot club
Man Quotient

17.6

Trailer
Déjà Vu
Mad Max the Transporter
Geek Factor
35%
See Trailer?
No
See Movie?
No
Follow Up
Pending
I also want to mention, that I had to double check that Uwe Boll wasn't involved in this movie in any way. It's hard to believe but I didn't see him anywhere on the IMDb page.

Ending Prognostication: Statham will win the race, prove his innocence and shut down the death race forever by exposing Joan Allen as the murderous manipulator she is. I doubt this one will even pretend to make a social commentary about violence in our society, but I could be wrong.

Conclusion on Trailer: Without checking I'd say this trailer has the highest man quotient ever, but that doesn't mean you should watch it. The trailer is all explosions and shooting with no creativity or originality. If you've seen Jason Statham before you know the acting isn't stellar either. Not worth the download.

Conclusion on Movie: The R-rating means that it'll have plenty over-the-top violence, but this movie won't have the camp value to make it fun to watch. Statham isn't that likable and nothing in the trailer gives me any hope for this one. I'd check out the original one instead.