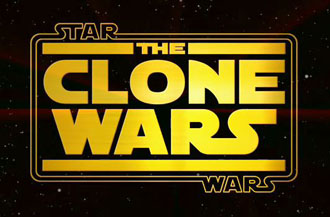 For most people, the Star Wars saga ended with Revenge of the Sith. For others (and you know who you are) the Star Wars saga will never end. This trailer targets the latter.
The trailer opens like the Star Wars films, with a space ship flying across a field of stars. It's only when it passes in front of a planet do you realize that this is an animated film.
The space ships look better than the characters who look carved out of wood, which I guess is fitting for Star Wars since the acting has been so wooden in the last three films. Still, the animated Anakin is more expressive than the "live" one.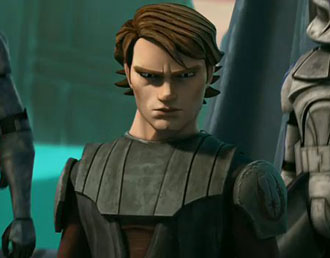 If only Hayden Christensen
could've been so expressive.
Next, a large door opens and the silhouettes of characters stand in a position that only characters in movies stand in.
Yoda tells us that Jabba the Hutt's son has been kidnapped and young Skywalker must find the renegades who took him. Obi-wan gets the task of negotiating a treaty with Jabba.
Unfortunately, Yoda doesn't sound like Yoda. It's close, but it isn't him. Wherefore art thou not Frank Oz?
Now we see sweeping shots of familiar characters and locations of the Star Wars galaxy; Jabba's Hut (without slave girl Leia (why bother?)), clone soldiers in formation, and product placements for more Star Wars toys.
The emperor declares that soon the Jedi will be at war with Jabba's clan and Count Dooku. Given that we know what happens to the Jedi and Count Dooku, the outcome won't be too suspenseful.
This trailer has a dearth of dialog, and mainly focuses on the action. I'd like to think that's because the movie is nonstop action, but I have the feeling it's because the voice acting isn't stellar.
Reviewinator

Trailer
Quicktime
Starring
Director
Dave Filoni
Official Site
Link
US Opening

August 15, 2008

Rated
PG
Genre
Milking the Cash Cow
Explosions
7
Weapons
Blasters, light sabers , tanks, space ships, walkers, battle droids, arachnids
Man Quotient

6.28

Trailer
Déjà Vu
Attack of the Animated Clones
Geek Factor
95%
See Trailer?
Yes (for fans only)
See Movie?
Yes (for fans only)
Follow Up
Pending
What follows is a barrage of battle sequences without any context. The weapons, the ships, the characters are all familiar, but we're not sure what they're fighting for.

Ending Prognostication: I'm not sure how this movie ends, but I know which characters will survive from watching the other movies. I also know how the saga ends, so I'm not sure how much tension can be created.

Conclusion on Trailer: I have a lukewarm emotional response to this trailer. Is this what we have to look forward to in the Star Wars saga? It looks like a cheap imitation of the real thing, and feels like another attempt by Lucas to milk the cash cow of the Star Wars franchise.

Conclusion on Movie: Unless you're a rabid fan that needs to see everything associated with Star Wars, I think you'll be disappointed by this movie. I'd pop in The Empire Strikes Back instead and watch it for the 101st time.