Now you too can enjoy my Inbox without the annoying spam. Every week I get some amazing e-mail. Some amazing because of the sheer cluelessness of the sender, some because of the time and energy that went into crafting them and some are just simply amazing.
---
BBelievers
A BBspotter snagged a BBeliever about our PS4 story, and posted about it on a discussion board...
He is saying that the PS4 is out this summer and sends me this link to prove it
---
Best Book Ever
Some people received the BBook from Amazon already, and I've already received some email about it. I thought I'd share...
From: Blaine
Date: Thu, Oct 30, 2008 at 8:48 AM
Subject: BBook & Link Bait
To: Brian Briggs

My question is whether you actually put link bait in your book in the hopes that people will email you or write about a "mistake" that you made?

Since of course you put the hitchhiker's guide to the galaxy on page sixty-six (42) instead of on page forty-two (2A). Editorial oversight in the rush to get things done, an attempt to see how many of us would email you, or just decided it was the actual symbols of four and two that were important and not the number forty-two?

Got through the software section, had some good laughs. Nice work!

I'm not sure Douglas Adams ever mentioned that 42 was in base 10 and not base 16.

From: Maurice
Date: Thu, Oct 30, 2008 at 7:46 AM
Subject: BBook
To: Brian Briggs

When I came into work this morning, I saw this lying on my desk. Believe me, it was much more pleasant than what I usually find there.

I thought (much like ThinkGeek) you might enjoy "action shots" of people enjoying your book in the real world. Looking forward to getting into it. Thanks again for making a great site, and a funny book.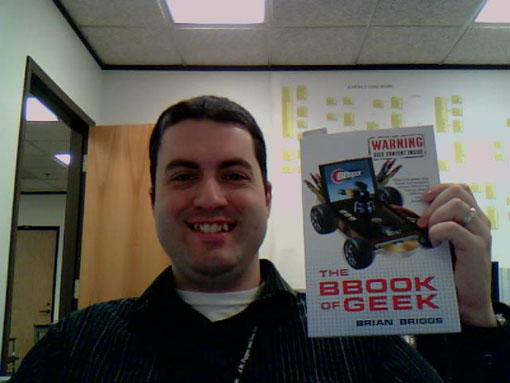 I love action shots. Send them in!

From: Robert
Date: Tue, Oct 28, 2008 at 1:06 PM
Subject: Got the BBook!!
To: briggsb@bbspot.com

Came home after another lovely day writing test procedures, to find a brown mailer from Amazon (yes, received on 10/27/08).

Guess what was within?

Your BBook!!

Yes, freedom to sit in the 'library' with fresh geekiness: Sweet!

Thanks!!

Uh-oh, I'm not sure I like how the BBook might end up being used in case of a "library" emergency!
---
Weekly Limerick
The winner of the 2003 and 2006 Geek Limerick contest has volunteered to write a weekly limerick for BBspot. Seth also has a new book
out that you should take a look at...
Seth has been sending over limericks for many weeks without any Mailbag. Thanks to him you've got many to enjoy now...
From: Seth

Some have called Sarah Palin's deeds low,
And Ted Stevens took gifts worth big dough.
 In Alaska, you'd think
  That corruption would sink,
But there's probably more than Juneau.