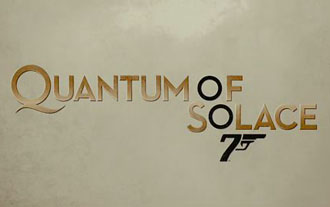 This week I return to reviewing trailers with the latest offering in the Bond series: Quantum of Solace. Quantum of Solace? I think there have been so many Bond movies that they're starting to run out of unique titles.
Daniel Craig returns as Bond, and he makes smiling more taboo for Bond than stirring martinis. Why so serious? No wry smiles, no quick wit. He could use some Prozac with his morning martini.
The trailer opens with an image of someone being left in the desert. M tells us that it'd take a cold bastard not to want revenge for losing someone they loved. Bond's cool, but not cold. He wants revenge.
Next, we learn of a shadow organization that's everywhere. It's so shadowy that British intelligence knows nothing about them. This is the reverse of usual government intelligence where they know about something that isn't there. A clever plot twist by the writers.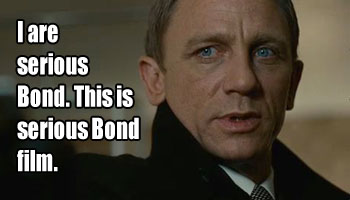 The bad guys like to wear tuxedos, which I think is common with all Bond villains. The main villain is named Greene. He mentions the most precious resource in the world and that he wants to control as much of it as he can. We don't find out what it is, but if Bond is so pissed then the resource is probably hot Russian models or vodka.
Greene also has the requisite European accent for a Bond villain. I didn't see a deadly sidekick, but I'm sure he's got one of those too, probably with a silly name like Handjob or Bud Tocks.
Arriving on the scene is the latest Bond girl. She's tan, she's beautiful and she's as unhappy as Bond is. After trying to kill him, they get together as a couple. Doesn't it always happen that way?
There's a very cool shot of a fight where Bond and the bad guy fall out a window. The camera falls with them. I'm not sure how they did it, but it looks very real and very cool.
The trailer gets even more serious. Bond and the girl talk on the beach at night about their losses. Hello people, this is an action movie, not Steel Magnolias.
Reviewinator

Trailer
Quicktime
Starring
Director
Marc Forster
Official Site
Link
US Opening

November 14, 2008

Rated
PG-13
Genre
Bond Series
Explosions
8
Weapons
Handgun, fists, SMG, boat, helicopter, machine gun, feet
Man Quotient

9.6

Trailer
Déjà Vu
Thunderball
Geek Factor
15%
See Trailer?
Yes
See Movie?
Yes
Follow Up
Pending
Finally, the Bond music kicks in and we're treated to an action montage. Car chases, helicopters, fights, explosions, boats, motorcycles, pain, everything you'd expect from a Bond film.

Ending Prognostication: Do any of the Bond films end with Bond losing? I don't think so, and I don't think this one will upset that trend. He'll probably tragically lose his girl too, since we've got to get a new Bond girl for the next film.

Conclusion on Trailer: The trailer makes good use of music. The effects look awesome, and like most Bond films the production values look very high. I'm not sure I like the serious side of Bond. It might be good for a trailer, but I like my Bond with a little humor. It's definitely worth watching. The trailer makes me want to go see this one, and I'm not that much of a Bond fan.

Conclusion on Movie: This r a serious Bond film. This one looks like it could be a winner. A winner is you. Go see it.