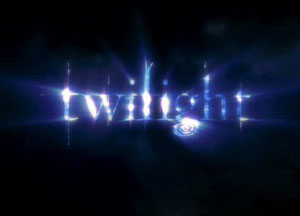 I don't come into this review with a shred of objectivity. If you're a regular reader, you'll know that I consider Twilight to be one of the worst books I've ever read. This trailer does nothing to change that opinion.
When I read the craptastic book, I wondered how it could be turned into a movie. In 90% of the book, nothing happens. It looks like the focus of the movie is the 10% near the end where stuff does happen, but there still could be ten minute close ups of Edward's "smoldering eyes" so beware.
In the trailer the actors capture the vapidity of the characters perfectly. They make Hayden Christensen look like Al Pacino. Their smoldering romance would chill liquid helium.
I'm not going to bother going through a scene-by-scene breakdown of the trailer like I usually do. That would require me to watch this trailer more times than is humane. I'll just give a short summary of the plot from my one viewing of the trailer, and my recollection of the book (or at least what's left after the neurosurgery I had, to have the memories removed).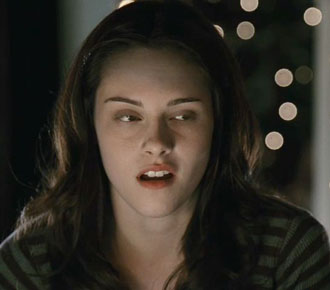 I can see why he fell in love.
Edward is a vampire. Bella is a psychotic girl who falls in love with him. He falls in love with her. In the last ten pages of the 1200-page book a bad vampire wants to kill her, but this will equate to about 80% of the movie. Edward and his vampire family save her. The end.
The trailer gives all of this away. I don't recommend seeing the trailer, but if it'll prevent you from seeing the movie then by all means watch it.
<shiver>
Doing that short summary caused tumors in my lymphatic system, just think what might happen to you if you went to see this movie.
Reviewinator

Trailer
Quicktime HD
Starring
Director
Catherine Hardwicke
Official Site
Link
US Opening

November 21, 2008

Rated
PG-13
Genre
Awful Book Adaptation
Explosions
0
Weapons
Smoldering eyes
Man Quotient

0

Trailer
Déjà Vu
Eragon
Geek Factor
0%
See Trailer?
No
See Movie?
No
Follow Up
You've got to be kidding me
Fun with IMDb: From a director who was the art director on Hunk and the writer who brought you three episodes of Dr. Quinn, Medicine Woman comes a mind-numbing film that stars Taylor Lautner from What's New, Scooby Doo.
Ending Prognostication: Since I read the book, I know how the movie ends, instead I'll give you how I wish the movie ended. All the characters die horribly painful deaths thus ending the prospects for any sequel.
Conclusion on Trailer: While the trailer doesn't descend to the depths of Pokémon Heroes or Delta Farce, it utterly fails to make me want to see the movie. Of course, with how I feel about the book the trailer would have to be a combination of The Fellowship of the Ring, The Matrix, Spider-Man 2 and Serenity to even get me to consider watching this offal.
Conclusion on Movie: Not only should you avoid this movie at all costs, you should actively prevent others from going to see it. Tell your friends and neighbors that seeing this movie will give them herpes and load spyware on their computers. You're the smart friend, they'll believe you.