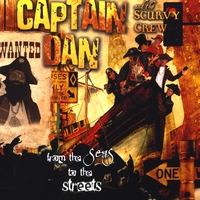 From The Seas to the Streets is the third CD from the Arr-core rap band, Captain Dan and the Scurvy Crew. Unless you're deep into the geek music, you're probably unfamiliar with the pirate-rap genre, let alone Captain Dan and the Scurvy Crew, but you need to be if you want to score some geek points.
What is Arr-core you ask? It's hip-hop about the seas, wenches, gold, rum and everything else a pirate loves. And these guys take their pirating seriously. These aren't the family-friendly pirates brought to you by Disney. Captain Dan and his crew have the mouths of salty sailors.
I enjoyed the songs, and I'm glad to add it to my growing geek music collection. I particularly liked Ship 2 Ship with its pounding beats and catchy chorus about battles on the sea. From the Seas to the Streets and That's How We Row are also standout tunes.
A couple of the songs borrow melodies from old sea tunes like Drunken Sailor, which tells you what you should do with a drunken sailor, and Blow the Man Down, which mimics the sea shanty. I liked Drunken Sailor, but I thought Blow the Man Down was one of the weaker tracks on the disk.
Reviewinator

CD
CD
Starring

Captain Dan
Sea Dawg
Santa


Official Site
Link
Wiki
Link
Launch Date

January 12 , 2009

Genre
Pirate Rap
Geek Factor
100%
Buy CD ?
Yes
The other tracks cover various pirate themes like Chests O' Plenty which covers Captain Dan's adoration for large-breasted wenches, and Diggin' for Gold, which is about, well, digging for gold. Calypso's Crabs gives a warning to all the sailors about visiting a woman named Calypso when they take some shore leave. Don't think the Scurvy crew is all about putting down the wenches. Ladies in Scarlet features a couple female pirate rappers with the message that girls can be good pirates too.
Overall, From the Seas to the Streets is another strong release from Captain Dan and the Scurvy Crew. Certainly, it takes a certain kind of listener to appreciate Arr-core rap, but I think there might be a few of those among the teeming masses of BBspotters.
You can get the CD or MP3s over at CD Baby where you can also listen to samples of all the songs. As ironic as it may seem, you really shouldn't pirate this one. Arr.