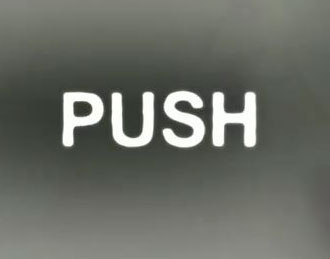 This week's trailer is for the movie Push. If it looks familiar to you, it's because you've seen X-Men or Heroes or Jumper. Chris Evans plays the hero who discovers he has super powers, then finds others with superpowers just like him, then discovers the secret government agency that wants to kill him or turn him into a weapon or whatever. Been there. Done that.
Like I said, Evans has superpowers. What powers you ask? How about the powers to kill a yak from 200 yards away… with MIND BULLETS! That's telekinesis. How about the power to move you? He can do that too.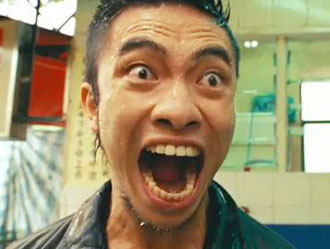 What about the power to scream at you?
The trailer opens with Evans using his telekinesis to win a game of dice in the rough playgrounds of Hong Kong. This establishes him as a grand thinker. Let me think, I'm able to manipulate objects with my mind. I know, I'll go win a game of dice on the streets. Genius.
Dakota Fanning tells him he's a second-generation "mover." I'm not sure if that means his parents are "movers" or if he's got more features and better battery life than the first generation.
Next, we learn that this is more like the Heroes universe than Jumper. Some people can control minds, some can see the future, some people can push it, push it real good.
Fanning can see the future, and she's not wearing shades. There's a "secret organization" called Division, which wants to turn these mutants, er, special people into super weapons. Only one person has escaped from Division, she's called Multiplication. Evans and Fanning must track her down, for no apparent reason.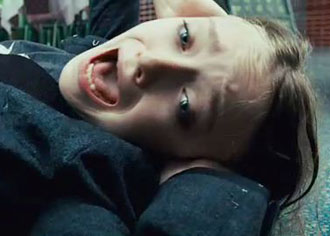 I had such a promising career.
The good news is that Fanning sees a future where she and Evans are dead. Unfortunately, they want to change that future.
Djimon Honsou plays Samuel L. Jackson the leader of Division. His power is that he can make the whites of his eyes turn black. This freaks people out so much that they faint. Not really a great power, but I'm thinking it's why he's so grumpy. He's jealous of other people's powers.
Reviewinator

Trailer
Quicktime
Starring
Director
Paul McGuigan
Official Site
Link
US Opening

February 6, 2009

Rated
PG-13
Genre
Super Powers
Explosions
5
Weapons
Handgun, telekinesis, assault rifle, caution sign, screaming, gravity
Man Quotient

4.4

Trailer
Déjà Vu
Jumper
Geek Factor
35%
See Trailer?
No
See Movie?
No
Follow Up
Pending
Then we get the action montage with various superpowers being deployed. One guy can deflect bullets like Wonder Woman. One guy can scream really loud and break all the glass (he would've been useful in that one scene in Die Hard).

Ending Prognostication: The good guys win. The bad guys lose. It will be predictable and obvious.

Conclusion on Trailer: It's a retread concept and the trailer lacks any compelling reason to watch it. The effects aren't all that great. The stars aren't likable. Don't waste your time.

Conclusion on Movie: I don't have much hope that this one could be any good. The trailer doesn't have any spectacular scenes. The stars lack any chemistry. Don't get pushed into seeing this one.