New York, NY – After gaining concessions from Amazon on the text-to-speech feature of the Kindle 2, The Authors Guild has set its sights on other text-to-speech devices, which could be used to infringe authors' copyrights.  The next target for the organization is the successful Speak and Spell device from Texas Instruments.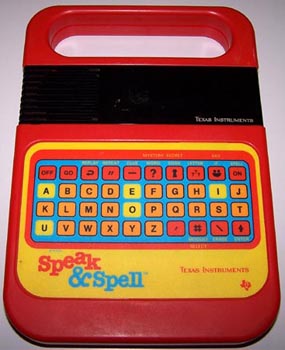 The Speak and Spell was a popular text-to-speech toy developed by Texas Instruments in the 1980s.  It featured several games including "mystery word," a hangman variant and "secret code," which scrambled words using a predetermined code.
"Millions of these devices are out there, and some are still being sold on Ebay," said Authors Guild President Roy Blount Jr.  "These devices threaten the livelihood of authors all around the world with their ability to turn text into speech."
Blount said the Guild is seeking to have all the devices removed from sale on Ebay, and to have the remaining devices destroyed.
"This is ridiculous," said Texas Instruments chief counsel Harold Summers. "The Speak and Spell device hasn't been produced for years and it can't even be used to read a book."
Blount said he was unaware of the device's abilities, but that he was certain the device could say some words included in Authors Guild members' works, which was enough of a threat for him.
"What's stopping someone from modifying one of these devices to read Twilight by Stephenie Meyer? What if one of our authors decides to write a book based only on the output of a Speak and Spell?  The Speak and Spell menace is frightening and needs to be faced with extreme measures," said Blount.
No one is sure of the next target of The Authors Guild, but many suspect it will be your mom.