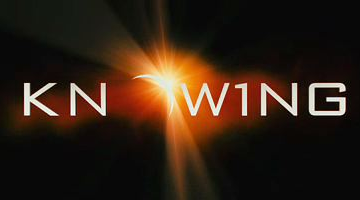 This trailer has two conflicting tendencies. On one side you have director Alex Proyas, who made the excellent Dark City (which I really should add to my Netflix queue to watch again) and Nicolas Cage, who has made some horrible movies.
The trailer opens with a touching scene between Nicolas Cage and his son. They're going to be BFFs. Can everyone say awwwww, please?
We then see Nicolas Cage teaching a class on randomness. He says there is no grand meaning to the universe. It's all just randomness. I have a feeling his theory is going to be tested in this movie.
Officials lift a time capsule buried for fifty years from a hole outside an elementary school. The kids from fifty years ago wrote down what they thought the future would be like. Teachers distribute the notes to present day children. Cage's kid gets a sheet of paper filled with numbers. He says, "Eff this shit. I want one with a picture of a spaceship! Where's my spaceship picture?"
Actually, he just stares at it blankly and a mysterious man appears in the distance.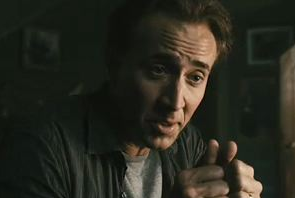 Screw Ebert and Roeper,
I give this one two thumbs up!
Cage, some kind of scientist, deciphers the numbers and discovers that they have predicted every major disaster of the last fifty years. He says, "I could cash in on this with purchases of life insurance and shorting disaster insurance companies. I'll be rich and my son and I can be together forever. If only there were more disasters to come."
There are.
The next prediction says that 81 people are going to die. Instead of making financial bets, Cage decides to go on the subway. He tries to save people, but only manages to help a lady with a baby. Eighty one people die. Now he is part of it. Would it have happened had he not gone there?
The mysterious men make more appearances. The kids call them the "whisper people." Cage thinks that sounds pretty menacing, so he takes a gun and a flashlight to a dark forest. He encounters these guys, but they flash in and out of existence. It blows his mind, and brain matter explodes toward the camera.
Cage then tells us that the numbers are a warning to everyone. The next disaster is going to be big. We get clips from this global disaster. Planes crash. Cities explode. General mayhem ensues.
Reviewinator

Trailer
Quicktime
Starring
Director
Alex Proyas
Official Site
Link
US Opening

March 20, 2009

Rated
PG-13
Genre
Nicolas Cagey
Explosions
3
Weapons
Subway train, handgun
Man Quotient

3.6

Trailer
Déjà Vu
The Happening
Geek Factor
25%
See Trailer?
Yes
See Movie?
No
Follow Up
Pending
Cage's son is scared and asks his daddy if they're going to die. Cage tells him that he "won't let that happen," so he must've deciphered the numbers even more to find out that he lives forever. I guess he can just sit back and chill for the rest of the movie then.

Ending Prognostication: The supernatural guys have created this as a test of humanity. Nicolas Cage and his son pass this test then realize they're in a virtual reality machine on an asteroid. The Wachowski brothers make an eerily similar movie a few years later.

Conclusion on Trailer: Despite having Nicolas Cage in it, I found the trailer compelling. There still are mysteries to solve, and the ending is still very much in question. The March release date though makes me wonder if this one might be one to skip. The trailer does a good job, but I'm not sure about the movie.

Conclusion on Movie: Alex Proyas has made some good movies, but Nicolas Cage doesn't have a very good batting average. I'm going to say that this one will be an average movie, but much depends on how it all wraps up. I'm going to recommend avoiding this one, though it might be worth watching on DVD.