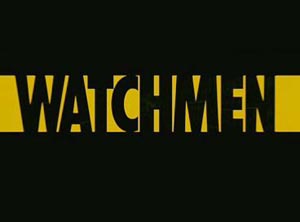 I come into this movie with a bias. I like the Watchmen story. I've read it twice. That doesn't mean I can't be objective about the trailer review, but it is impossible for me to watch it without knowledge of the plot in my head. I see scenes in the trailer, and know what point in the story they come from.
Someone who hasn't read it might be confused by it, but I can't watch it with virgin eyes to know.
The trailer opens with the standard MPAA ratings screen that adorns all trailers. One thing special about this one is that it says rated R. I'm sure some Hollywood types would love to release a PG-13 version of this movie, but it would suck beyond belief. An R-rating doesn't guarantee a good movie, but it gives a chance to be faithful to the graphic novel.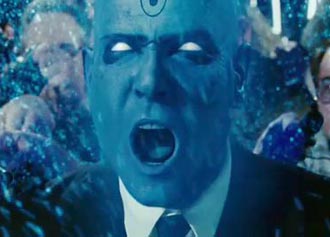 Atomic Smurf
Now to the trailer proper. An old man is thrown through a window out of his high-rise apartment. It's the Comedian. Rorschach on the ground below laments his death, and begins to investigate. The Nite Owl suggests it could be a political killing. Rorschach thinks someone is picking off costumed heroes.
Next, we see the big blue guy, Dr. Manhattan. He thinks there's going to be a nuclear war. Cue nuclear explosion in Times Square.
Rorschach thinks that someone wants them out of the way, so they can't stop the war. He wants retribution for the death of the Comedian. He's just that kind of guy.
After that, there's an action montage of the heroes, and Dr. Manhattan questions why he would save the world that he no longer has any stake in. True, he's living on Mars in his crystal castle. Jerk.
More action scenes including an unfortunate scene of Silk Spectre outrunning an explosion. When will they ever learn?
Finally, Rorschach says he's too busy to save the world. Jerk.
Reviewinator

Trailer
Quicktime
Starring
Director
Zack Snyder
Official Site
Link
US Opening

March 6, 2009

Rated
R
Genre
Graphic Novel
Explosions
7
Weapons
Fist, gravity, handgun, shotgun, rifle, flamethrower, helicopter, assault rifle, hat stand, Molotov cocktail, feet, Dr. Manhattan, nuclear bomb
Man Quotient

8

Trailer
Déjà Vu
Max Payne
Geek Factor
100%
See Trailer?
Yes
See Movie?
Yes
Follow Up
Here
It's pretty clear from the trailer that this isn't a simple, "superheroes save the world" kind of story. In fact, twice these jerky superheroes said they're specifically not going to do it. That's what makes the Watchmen story special. It's not a formula picture. Good and evil aren't always so clear cut in the Watchmen universe. I enjoy that kind of story.
Ending Prognostication: Entirely unfair since I've read the novel. The movie will be faithful to the ending in the book.
Conclusion on Trailer: The special effects look great and the depiction of the heroes look excellent. As a fan of the graphic novel, the trailer gets me excited to see the movie. I don't know if it does the same for those who aren't fans of the work. The cool action scenes and the hot Silk Spectre might help those people out though. If you're a geek you should at least see the trailer.
Conclusion on Movie: This is a tougher call, but from what I see in the trailer I think this one will be a winner. I definitely suggest reading the graphic novel beforehand, though. It's better the second time through anyway.