San Francisco, CA - Relenting to pressure from content creators and users, Digg announced they would be removing the DiggBar from the site and replacing it with the DiggShaft.
Digg hopes the DiggShaft will address the many complaints about the DiggBar.
Last week, Digg released the DiggBar, which frames content and provides a shortened URL. Digg said this made it easier for Digg users to enjoy and share content. Users complained about opt-out nature of the bar and the taking up of screen real estate. Content creators complained even more vociferously about the framing of content and the stealing of Google "juice" by using a shortened URL.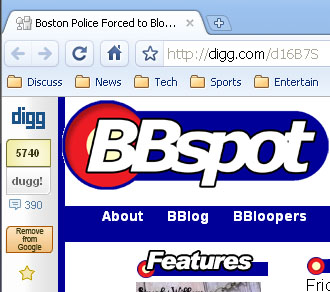 The DiggShaft in Action
Some Web masters have even gone so far as to block the DiggBar from their site.
The DiggShaft is a vertical toolbar, which does essentially the same tasks, but with enhanced capabilities.
"In today's age, most users have wide-screen monitors, so they have much more horizontal screen space available. A vertical instead of a horizontal toolbar will be much less intrusive," said John Quinn of Digg.
The DiggShaft also adds several new features. Foremost, the DiggShaft adds the oft-requested blink tags to important key words on a linked page. "Most users just scan an article linked on Digg. The blink tags will draw their eye to the important content on a page, preventing them from making asinine comments they would've made had they missed the key phrases," said Quinn.
The DiggShaft also includes a "Remove this Site from Google" button, which allows Digg users the option to remove the linked site from the Google index and replace it with the Digg page.
"The content creators we spoke to were wild about this idea. A link from Digg can generated hundreds of thousands of page views. Even more with the increased traffic generated by the DiggShaft, but now Webmasters won't have to worry about high bandwidth bills from a link from Digg. We'll shoulder that burden at no cost to them. It's a win-win situation," said Quinn.
Finally, to avoid any confusion as to which site the readers are on, the DiggShaft removes any mention of the destination site, and makes it impossible for the reader to reach the site.
Quinn added that Digg would be monitoring user feedback on the DiggShaft, and refining it to make it better for all.
"We think everyone involved will appreciate getting the DiggShaft," said Quinn.
In related news Digg founder Kevin Rose said that he would be expanding his home by building up and around neighboring homes, incorporating them into his mansion. Rose said that he was sure his neighbors, "wouldn't mind" and would welcome the inclusion in a Web celebrity's home.